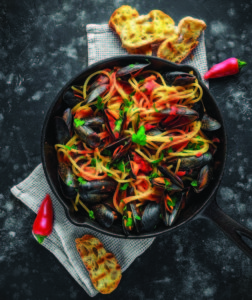 Want to feel like you're anywhere on the Mediterranean? Then this recipe is for you. No need to worry about knowing which clams are fresh as this dish uses the canned kind.
1/3 cup basil-infused extra-virgin olive oil
4 cloves garlic, peeled
1 lb mussels, cooked
8 oz Clamato juice
¼ tsp sea salt
¼ tsp ground white pepper
8 oz uncooked spaghetti
Handful of basil, roughly chopped
Heat the olive oil in a large sauté pan over medium-high heat. Add the garlic cloves and brown them, stirring every-so-often so they don't burn. Add the clam juice, and simmer for 5 minutes. Remove the garlic cloves, add the clams, and simmer for another 5 minutes.
Add the can of tomatoes, and season with salt and pepper. Let the sauce simmer for about 30 minutes. Halfway through cooking, bring a pot of water to a boil for the pasta. When the pasta is cooked, drain and put into a large serving bowl. Spoon the sauce over pasta and garnish with the chopped basil. You can further garnish with freshly grated parmesan or a drizzle of basil-infused olive oil.