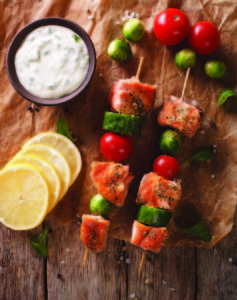 Everyone loves food on a stick. You don't have to use utensils, and you may not even want to use a plate as you can eat right off the skewer. These kebabs are also good when done on the barbeque.
2 lbs trout fillets (fresh is possible)
½ cup extra-virgin olive oil (medium pepper intensity)
3 tbsp lemon juice
Pinch of each sea salt, ground black pepper and fresh dill
15 mushrooms (button, Shittake or Portobello)
8 bell peppers (mix of green, red, yellow and orange)
Cut the fillets into 1-inch cubes. In a mason jar, mix olive oil, lemon juice, salt, pepper and dill together, and shake well. Put the trout into a glass dish, and pour over the marinade, tossing the fish to coat evenly. Cover with a lid or plastic wrap, and set in the refrigerator for 1 hour.
About 15 minutes before the fish is to come out, preheat the oven to 450°F. Quarter the mushrooms (including the stems), and slice the peppers into 1 ½-inch pieces. Wash and dry 4 to 6 metal skewers that measure about 12-inches long. Remove the fish from the refrigerator, and starting with a vegetable, alternate the fish, mushrooms and peppers onto the skewers. Set the kebabs on a cooling rack set in a baking sheet, and brush over the marinade. Cook the kebabs for about 15 minutes, brushing on the marinade every-so-often. Serve immediately on its own or with rice.