Alcohol and art are no strangers. When you attend a gallery showing, art is often enjoyed with the accompaniment of wine or cocktails. It's a familiar pas de deux for Gracie Jane Genereux—veteran of the art and cocktail worlds, and owner of A Boutique Gallery Bar by Gracie Jane on Perron Street.
Genereux had racked up 45 years' experience as a bartender, and nine years as a professional artist. After years with her fingers dipped in two pots, she came up with the idea of combining her two passions and A Boutique Gallery Bar by Gracie Jane opened in January of 2016.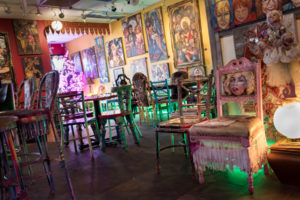 Now you may be wondering, what exactly is a boutique gallery bar? Simply put, it's a bar and art gallery combined. The most interesting part? Everything is for sale
"Customers can buy a wine bottle, a vase, a canvas, a table, or the chair they're sitting on," Genereux remarks.
The whole place is a visual smorgasbord, and to truly understand its uniqueness, you really must immerse yourself in its milieu.
The décor of Gracie Jane's is entirely composed of Genereux's colourful, multimedia portrayals of pop-culture icons, from Michael Jackson to Marilyn Monroe. "I buy old jewellery, wedding dresses, blouses, mirrors, and CDs to break and tear apart," she explains, adding, "I'll put them in a Marilyn Monroe outfit, or Elizabeth Taylor headpiece." Every inch of the bar is teeming with Genereux's artwork, including some of her most prized pieces such as her incredible portrait of Michael Jackson. "I definitely have my own style," says Genereux. "You can recognize it."
Gracie Jane's has already gathered a loyal following—no doubt due to its array of lively events as colourful as the artwork. There's live music every weekend, comedy shows, birthday parties, Liberace impersonators, Elvis impersonators. And each month, she hosts two recurring events: A movie star theme party, where guests come dressed as film stars enjoying cocktails and hors d' oeuvres; and a cowboy theme party with wild west outfits and a pig roast. Another popular event is paint nights, where patrons paint ceiling tiles.
"Customers love this," says Genereux, "because when they come here, they have a special piece that's theirs," she adds.
Clearly, Genereux cares deeply about making a lasting connection with her customers. Once you've spent about two nights at Gracie Jane's, you're officially part of the family. "I want my customers to feel like they're part of the bar," she explains. It doesn't matter what walk of life you come from. At this bar, everyone's welcome to enjoy art, have a drink, and of course, sing some karaoke. "I'm trying to create an artsy place that people from ages 18-to-90 can enjoy, and where nobody is judged," Genereux says.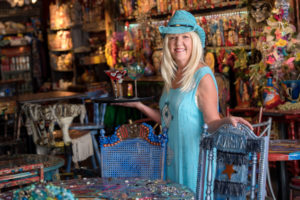 In fact, Genereux's customers do feel like family. When she was diagnosed with non-Hodgkin's lymphoma two months after opening the bar, her patrons (alongside family and other friends) pulled together and kept her dream alive while she received treatment. "I thought I was going to lose my business," says Genereux. "I would have if I didn't have them to keep the bar going. It was amazing."
Today, Genereux's made a full recovery and is at her bar every day. "I've got to do what I love," she notes, adding, "I built this from nothing. Hard work and not giving up—that's the secret." She's had people ask to franchise her or buy her out, but she's happy with what she has, and where she is.
"It's not all about money, says Genereux. "If you're happy doing what you're doing, what else could you ask for?" t8n
Did You Know?
In 2016, half of the Canadian population made time to participate in creative arts, with 13% choosing visual arts (next to 15% in music, and 18% in crafts such as woodwork and pottery).
Source: Alberta Foundation for the Arts
(Statistics Canada General Social Survey 2016)
A Boutique Gallery Bar by Gracie Jane at a Glance
Location: 31a Perron Street
Owner: Gracie Jane Genereux
Specialty: Pop Art, Theme Nights,
Custom Portraits, Customer Service
Fun Fact: Two stools in the bar came from the now demolished Bruin Inn.