A watery mash of grain or fruit and a sprinkling of yeast—at one time, alcoholic fermentation must have seemed like some kind of mysterious witchcraft. Thanks to science, though, we now know how yeast cells convert sugars and starches into ethyl alcohol, the basis of all alcoholic drinks. The mystery may be gone, but for those who make beer and spirits today, the magic undoubtedly remains.
Over the past five years, Alberta has conjured dozens of craft breweries and distilleries. Here, we talk to three local ones in St. Albert—Endeavour Brewing Company, Black Diamond Distillery, and Beer Factory—to find out more about their passion for making great potions.
Inspired Curiosity
"Yeast is a voracious, living thing. If you give it an opportunity to go off on a tangent and produce a different flavour, it will," says Richard Spilsted, brewmaster of Beer Factory, a brewpub that developed from the tasting room of Hog's Head Brewing Company. Though, he admits: "Sometimes it's fun just to let that happen."
Indeed, going off on tangents is one of the big advantages that craft brewers like Richard have over the big players in the alcohol industry, and it might explain the appeal of a well-made craft beer. For those who are all too familiar with the Molsons of the world, there's something enticing about the "cherry or light banana aroma" of Beer Factory's Malty Goodness brown ale, or the "beautiful citrus note" in its Mosaic pale ale. "Sometimes, you just come up with a radical wacky idea," says Richard, a retired chef. He explains that developing a beer is not a whole lot different than developing a dish, adding, "I'm just using a different palette now."
Transformation from Hobby to Living
The 'craft' label that gets applied to smaller brewers and distillers is for good reason. They bring a personal touch to the production of beer and spirits, one that speaks to their hobbyist origins. Richard got into the game some 40 years ago—before there really was a game—tracking down malt extract, hops, and yeast at Safeway and a wine art store. "It was a little harder to get into it than it is now."
Matt Atkins, who runs Endeavour Brewing with his wife Georgia, also started out at home. For the self-professed beer fan, it was partly a matter of expediency. "We couldn't afford to buy beer, so we would make it." While he admits those early brews weren't the best, over time he improved, upgrading from beer kits to a larger, three-vessel system and experimenting with varieties of hops and yeast. He explains that brewing the beer you want is a process of changing up the elements to see what happens.
"You brew the same beer a couple of times and you find out," he remarks. After that, it's a matter of keeping a consistent quality.
Even so, there was still a learning curve to overcome when it came to brewing bigger batches with shinier equipment. Adventure Brew, Endeavour's first beer, is a case in point. "It didn't quite go to plan," Matt says, as Georgia laughs. Though it sort of resembles a bitter brown ale, it doesn't really fit any style. His Lost Flip Flop Saison, too, doesn't quite fit either. Though they did use a saison yeast, the brew is lighter in colour and hoppier compared to typical saisons. "I don't necessarily like to be within the style guidelines," he says. Georgia chimes in, "I guess that's where we have a little bit more, um… fun? It's different for every single person, which makes it more interesting."
Science Meets Magic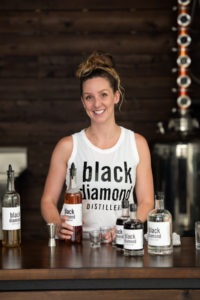 David and Andrea Scade of Black Diamond Distillery also got their start at home. Intrigued to discover that a friend was making alcohol at home with his own apples, David built a simple still—a stainless-steel pot from Costco to which he soldered a copper arm—and began researching and experimenting. "I got into the science of it more than anything," he says.
While yeast puts the fun in beer and wine, it also places a cap on that fun—at 20 percent ABV (alcohol by volume) yeast cells can no longer survive. That's where distillers get to work. Ethyl alcohol boils at 78.37 degrees C, so heating fermented mash extracts alcohol in the form of vapour, separating it from the rest of the mixture. Distillation is essentially a purifying process, producing a clean undiluted liquor with a much greater concentration of alcohol.
The learning curve was steep but enjoyable, David says. Running smaller batches allows for trial-and-error learning and experimentation. "We try to be as original as we can," Andrea says, pointing out the rarity of some of their flavours. As far as they know, no one else is doing a cucumber vodka, and only one other distillery is doing a straight infused Earl Grey vodka. Their hot chili vodka is especially personal; the idea came from Andrea's pregnancy cravings for spicy Caesars.
"That's the beauty of the size of our operation," says David. "We can experiment in really tiny batches and see how it goes."
Small Is the New Big
The craft alcohol boom in Alberta has led to smaller producers who proudly connect their small size to their local 'cred.'  Richard estimates that his beers are 90 percent Alberta sourced, with two-row barley coming from a farm near Penhold, and a few varieties of hops that are now produced in-province. As Georgia says of Endeavour's freshness and taste, "Well, it's because it's brewed fresh, with ingredients that are grown here. It's not coming from overseas; it's not sitting in a container for a long time."
"Our whole thing is how small we are, and how everything is local and fresh," Andrea says, seemingly speaking for everyone. "We want to meet our customers, we want them to meet us. We love that we're part of a community that knows who we are, and where our stuff is coming from."
Tastings, Tours, and More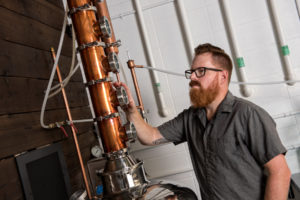 Beer Factory
16 Rayborn Crescent,
(780) 470-2393
Beer Factory has 15 taps; two are house beers, the rest feature other Alberta craft beers on rotation. Beer flights are available, as well as beer and moonshine-infused comfort food (think beerimisu). They host group and corporate events, onsite and offsite lamb and pig roasts, and now offer growler fills.
Black Diamond Distillery
16 Renault Crescent,
(587) 598-2820
Black Diamond has an in-house tasting bar and shop where you can buy their fruit liqueurs and infused vodkas. They offer custom-made flavours for weddings and special events, and can create spirits that customers can age at home. Hours are variable; check their Facebook page or call before you come.
Endeavour Brewing Company
Suite 4A, 215 Carnegie Drive, (780) 752-3777
Endeavour's brewhouse is visible from it's tasting room, where you can enjoy light food alongside their beer. Pint sales, off-sales, and growler fills are offered, and you can call to book a tour. Endeavour also hosts parties and special events
such as Bend & Brew, which combines 45 minutes of yoga and beer. t8n