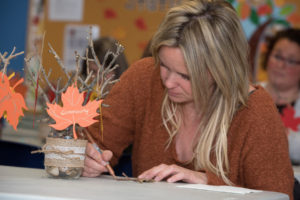 Our future will always lie in the hands of our children. Your little ones may not realize this yet, but the professionals at St. Albert Family Resource Centre certainly do. Growing up happy and healthy is a vital part of becoming a productive member of society, which is why educators at the centre work diligently to provide hundreds of courses year-round that assist, teach, and inform families from their earliest stages up until their children reach age 12.
St. Albert Family Resource Centre is a non-profit coordinated by executive director Shelley Passek. The centre supports families in and around the community through programs and resources covering early childhood (parented and un-parented), child and youth, parenting, outreach, family support, and they even run a licensed preschool. "It's very multi-activity here," says program manager Tanya Scott.
The centre began in 1982, when three people from counselling and parent education fields opened a small facility called Society for Education and Support for Parents.
"Those individuals generally cared about families," says Passek.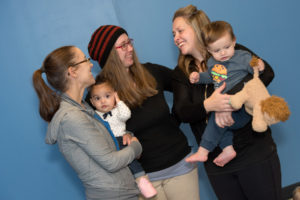 They focused on early learning programs, but as the years progressed, so did the organization. It was renamed St. Albert Parents' Place in 1991, and by 2001, the introduction of their outreach program was a significant milestone as it allowed them to serve various locations in St. Albert and outlying communities. In 2003, they grew again and the business relocated to its current facility in Campbell Business Park. In 2011, they renamed once more—this time to the St. Albert Family Resource Centre to better reflect their offerings. "I think we've naturally developed to meet the needs of the community," says Scott.
In this industry, professionals must constantly adapt to the community.
"It changes all the time," says Scott, "we just try to listen to what the needs are."
In fact, the centre has seen an increase in demand for its child and youth programs around anxiety, emotion regulation, and anger management. "Anxiety and emotion regulation are a high need in any community right now," notes Scott. Their course called 'Worry Too Much' is for grades one through three, while 'Taming Your Worry Dragons' covers grades four through six. Both teach techniques to help ease worry and anxiety. Emotion regulation courses include 'I Have Butterflies' for grades one and two, while 'Volcano in My Tummy' is for grades three through six. These teach children that anger is an emotion, and they offer ways to manage it.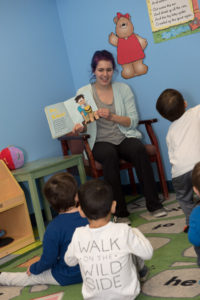 The centre firmly believes in supporting families as a whole. "Our goal is to strengthen the family unit in whichever way we can," explains Passek. This is why they also offer adult programs that guide parents and other family members through the transitions of raising children. 'Just for Parents' and 'Triple P' are designed for parents and caregivers to share their honest thoughts and feelings on parenting in a safe and supportive setting. They aim to increase confidence and teach strategies that help with everyday challenges. Passek notes, "Everything in the parents' program is determined by the needs of the family. We don't tell them what they need—they tell us, and we work together to help them."
As of June, St. Albert Family Resource Centre had roughly 300 families take advantage of their services as members. Memberships are $60 and are valid until August 31—regardless of the date you signed up since they follow the school year calendar. But $20 summer-only memberships are available along with subsidies for those who need them. With membership comes access to member-only programs, and regularly offered programs are discounted or free. But all that aside, Passek notes, "Everybody is welcome here; there is no judgment." t8n
St. Albert Family Resource Centre at a Glance
Location 10A, 215 Carnegie Drive
Service Outreach and Family Support Programs
Popular Courses Worry Too Much / Taming Your Worry Dragons (curbing anxiety for Grades 1–6); I have Butterflies / Volcano in My Tummy (emotion regulation for Grades 1–6); Just for Parents / Triple P (parenting support)
Fun Fact
The centre attracts families from Edmonton, Spruce Grove, Morinville, and Sturgeon County.