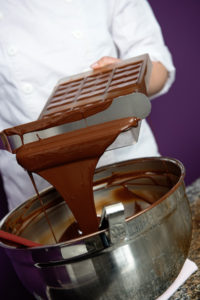 In our culture, we're never really far from chocolate. It's in our baking, our breakfast cereals, our snacks, shaved on top of our coffee, and even blended into smoothies. And it's no mystery as to why. Yes, chocolate tastes good, but more importantly, it makes us feel good. It picks us up when we're sad, it gives us energy, and dark chocolate can even benefit our physical health.
Rebecca Grant, owner and artisan of The Violet Chocolate Company, is taking our relationship with chocolate to new heights. As a professional chocolatier in Edmonton, she takes great pride in handcrafting experimental chocolates that delight patrons with new flavour combinations.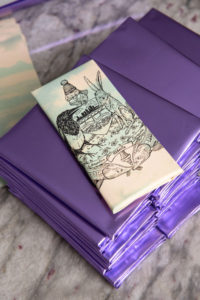 Rebecca didn't plan on becoming a chocolatier. As a NAIT culinary school graduate looking for work, she found a job with a local chocolate company—something to tide her over until she found a role as a pastry chef. But things didn't go according to plan.
"I just fell in love with it," she says. "When the company eventually went out of business, I bought the equipment and started up on my own."
As a first-time business owner, Rebecca's entrance into the industry was wildly successful. She entered her first chocolate competition without high hopes, just to get a glimpse of what it was like, but she won First Place. Since then, she's swooped up a whopping 13 international awards for her work, as well as 37 Canadian awards.
Part of Rebecca's success is due to her adventurous palate and a willingness to experiment with new flavours. The Violet Chocolate Company's seasonal chocolate collections transcend simple choices like 'milk' or 'dark' and instead feature flavours like Chili Mango, Honey Rosemary and other unconventional combinations.
"I take a lot of inspiration from foods that I enjoy," she says, "or I experiment with things that you wouldn't expect to find in chocolate, and make it into something that people enjoy."
Not all of Rebecca's experiments are immediately successful, but she's nothing if not persistent. Some flavours take years before they're perfected. It's a long process, but the results (and the awards) speak for themselves.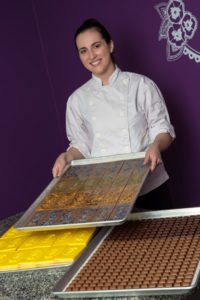 Rebecca's workshop is quite traditional. There's no heavy machinery in the kitchen, and everything is made by hand. She can make about 75 bars at a time, with each batch taking a little under an hour to complete. This process, while slow, has its advantages. The quality of each batch can be carefully monitored, and it allows her to innovate and make tweaks and small adjustments to perfect each flavour. Each batch is automatically a limited supply. If you fall in love with a flavour, make sure you stock up because it may not be around for long. t8n
*Visit https://the-violet-chocolate-company.myshopify.com to order or for a list of retailers.