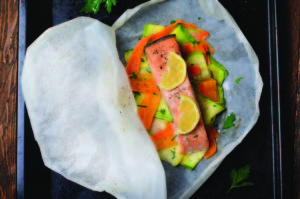 The best way to cook fish is in its own juices or by steaming. Cooking en papillote does both. And the best thing about this method—no pans to scrub afterwards.
4 small salmon fillets
Sea salt and ground white pepper, to taste
5 tbsp unsalted butter
2 shallots, thinly sliced
1 lb asparagus
1 lemon, thinly sliced
4 fresh dill stems
4 tbsp white wine
4 bay leaves
Preheat the oven to 400°F. Wash and pat dry the salmon fillets then season with salt and pepper, and set aside. In a medium-sized frying pan, melt 4 tablespoons of the butter, and just as it starts to foam, sauté the shallots over medium heat until they're just tender. Remove from the heat.
In a large frying pan, bring an inch of water to a boil. Cut about an inch off the asparagus ends then set the spears into the boiling water. Cover and cook for about 4 minutes; they'll still be firm, but they'll get further cooking in the papillote. Drain and set aside.
Cut 4 pieces of parchment paper into heart shapes (traditional shape for papillote) that will be approximately 2 inches larger than the fillet. Melt the remaining butter, and brush a little on the parchment hearts then lay one fillet on the right-hand-side. Pour 1 tablespoon of wine onto each fillet, then divide the asparagus, lemon, shallots, bay leaves and dill evenly among the 4 fillets.
Fold the parchment edges together using small, over-lapping folds at 1 inch intervals starting at the heart curve. Transfer the papillotes to a baking sheet and cook for 15–18 minutes or until the papillotes have puffed up with the steam. Remove from the oven and transfer to a plate. Carefully cut open and serve as-is in the parchment parcels.