Tender, delicately spiced and just about the cutest things we've ever seen.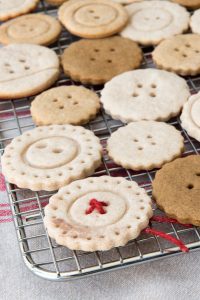 3/4 cup unsalted butter, softened
6 tbsp cream cheese, softened
1 cup granulated sugar
1 large egg
1 1/2 tsp vanilla extract
2 3/4 cups all-purpose flour
1 tsp baking powder
1 tsp cinnamon
1/2 tsp pumpkin pie spice
1/4 tsp salt
INSTRUCTIONS
Preheat your oven to 350˚F, and line a large baking sheet with parchment paper.
In a large bowl, beat the butter, cream cheese and sugar until fluffy. Add the egg and vanilla, and beat again.
In a second bowl, whisk together the flour, baking powder, cinnamon, pumpkin pie spice and salt.
Add the dry ingredients to the wet, and mix until combined.
Wrap the dough in plastic wrap, and place it in the fridge to chill for 1 hour.
On a lightly floured work surface, roll out the chilled dough to a scant 1/4 inch thickness, and cut into "buttons" with a round cookie cutter.
Place the cookies 1 inch apart on the prepared baking sheet.
Next use the back of a wooden skewer to make buttonholes in each cookie.
Bake for 8 minutes, and then cool the cookies on a rack.
To package, thread 12 cookies together with baker's twine, and tie with a bow.