Chocolate and coconut are a win every time. These cookies are a sweet little bite anytime of the day. Change it up by adding cranberries or nuts instead of chocolate chips!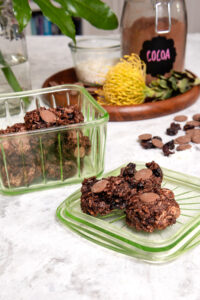 2½ c. flaked coconut, packed

¾ c. granulated sugar

¼ c. all purpose flour

3 tbsp. unsweetened cocoa powder

¼ tsp. salt

4 egg whites, lightly beaten

1 tsp. vanilla

1 c. milk chocolate chips (or cranberries)

½ c. chocolate circles
Preheat the oven to 325°F. Line two baking sheets with parchment paper and set aside.
INSTRUCTIONS
In a medium bowl, stir together the coconut, sugar, flour, cocoa, salt, and chocolate chips. Stir in egg whites and vanilla until combined. The dry ingredients should all be coated in the wet ingredients.

Using a 2 tablespoon cookie scoop, scoop the mixture onto the prepared baking sheets.

Bake for 20 minutes. As soon as the sheet is removed from the oven, press a chocolate circle into the top of each cookie.

Let the cookies continue to cool on the sheet for 15 minutes and then remove to a cooling rack to completely cool the cookies. 

These cookies will keep in a sealed container for up to two weeks. They also freeze nicely!