This bright, flavourful green curry pairs perfectly with the richness of the coconut rice. A squeeze of lime at the end creates a beautiful flavour balance.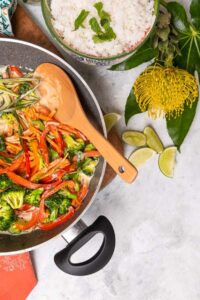 Coconut Curry
3 tbsp. avocado oil
1 pepper, thinly sliced
2 carrots, cut into matchsticks
1 stalk of pandan
1 c. broccoli florets
1 tsp. kosher salt
1 tsp. ground pepper
1 shallot, thinly sliced
½ c. snow peas, cut into thirds
2-3 tbsp. green curry paste
1 can (398mL) full fat coconut milk
sesame seeds
fresh cilantro
lime wedges
INSTRUCTIONS
In a large skillet, heat one tablespoon of the oil over medium heat. Add the shallots and cook for three minutes until softened. Add in the carrots, stir and cook for three minutes.

Next add in both the pepper and the broccoli florets and continue cooking for another three minutes. Finally add in the snow peas.

After two minutes, using a slotted spoon, remove all the vegetables into a bowl and set aside.

Using the same skillet, lower the heat slightly. Add in the remaining two tablespoons of oil and the green curry paste.

Cook until the green curry paste is fragrant.

Pour in the coconut milk, add the salt, pepper and pandan stalk. Whisk to combine. Let this mixture simmer for two to three minutes to bring the flavours together.

Add the vegetables back to the skillet and keep warm until the rice is ready.
Serve with fresh cilantro, sesame seeds and a squeeze of lime juice
Coconut Rice
1 c. basmati rice
1 c. coconut milk (Use the other half of the can from the coconut loaf!)
1 c. water
1 tbsp. kosher salt
Add the rice into a medium pot and rinse before adding the cooking water. Drain off the rinse water and add in the coconut milk, water and salt. Bring to a boil over high heat. Reduce the heat to low and