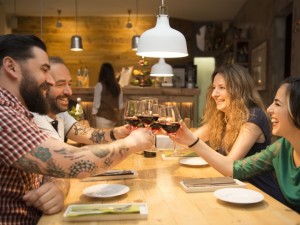 A new concept has cropped up on St. Albert's food scene, and it's got people talking—talking to strangers, that is. Communal tables are a trend that's taken over all sorts of establishments, from quick-service to fine dining, and customers are eating them up. Top-notch cuisine, dynamic décor and superior service are nice, but today's diners seemingly want a side of social interaction with their supper. And communal tables are quick to deliver.
What Are Communal Tables?
Also called "community tables," communal tables are large tables in restaurants that seat more than one party at a time.
Where Did They Come From?
Communal tables may be all the rage right now, but they aren't a new concept. Far from it, actually. Up until the 19th century, communal tables were the norm in inns, halls and public dining rooms in Europe. In fact, only the wealthy could afford to eat in private dining rooms in those days.
Restaurants as we know them today—with each party seated at its own table—didn't exist until the 1760s when they were introduced in Paris. Gradually, this style of dining became more popular and it remains what we see in most restaurants today.
A World of Table Sharing
Unless we're in a cafeteria, a ski lodge or a festival beer garden, most North Americans don't expect to share a table with people they've never met when they go out to eat. However, in other parts of the world, sharing a table in a restaurant is pretty common.
In Japan, many restaurants are busy and there are often more diners than tables. The Japanese know they'll get a table much faster if they are willing to share it with other diners instead of waiting for another group to finish. Same goes in many informal European establishments, like German beer halls or Italian trattorias (small, family-run restaurants); if diners want a seat, they have to share a table.
More Than a Trend
Right now communal tables are putting a fresh spin on restaurant design and according to Vance Bosch, regional operating partner at Central Social Hall, they're here to stay. "They've proven popular in big foodie markets like Boston, Chicago and New York […] two or three or four groups can come in and sit down, and there's interaction between them. Pretty soon they're talking, buying each other drinks and making friends."
Central Social Hall in St. Albert has 1 communal table that seats up to 16 people; the restaurant's downtown location has 4 communal tables that seat up to 12 and 16 diners each. "We were one of the first to pioneer this concept in Edmonton," says Bosch. "Our whole concept is about being social and stepping outside of your comfort zone. We brought [communal tables] in for a reason. We are trying to create a more interactive atmosphere, foster strangers coming in and meeting and encouraging them to talk. -People are loving it."
Catching On With Customers
Kaylen Como added a communal table to his St. Albert-based restaurant, Privada Wine & Tapas, last summer and isn't looking back. "It's done wonders for us. People are responding well to it."
Privada's communal table is about 10 feet long and seats between 8 and 12 people. Como admits some people are a bit apprehensive about being seated with strangers at first, but says that after about 10 minutes it's amazing what happens. "The table adds a cool dynamic. It makes it easier to strike up a conversation. St. Albert is a small community and I think people want to have conversations with other people who live in their community. This creates a safe, open atmosphere to do that."
Tamsin Brooks lives in St. Albert and dines out in restaurants at least once a week. Brooks has warmed to the idea of communal dining. "The first time I experienced a communal table, I was a little taken aback. That's when they were brand new. I was with my mom, and we actually asked to sit at another table," laughs Brooks. "Two years later, it doesn't bother me at all. Actually, I think the experience is kind of fun."
Brooks says communal tables bring her out of her shell. "If you go with a group of friends, it's perfect. You can interact with the people next to you, and it's kind of cool to see what other people are eating. It's fun and eclectic… you feel like you're part of something."
The Business Behind Them
Not only are communal tables a cool concept for customers, but they also make good business sense. According to Bosch, the big tables allow them to easily accommodate large groups. "We get a lot of requests for groups of 12 to 15. Because of these tables, we can seat a large group without having to pull tables together or put them in separate booths. This opens up a whole group of guests we wouldn't be able to accommodate otherwise."
Como says their communal table has added value in their business as well. "For us the table is a good use of space. It really maximizes our real estate … we only had 11 tables in total. It's discouraging if you can't seat people. Now we can get them in."
With communal tables going strong in St. Albert, it seems like a good time to put an old adage to the test: a stranger is just a friend you haven't met yet. A friend with great taste in restaurants. t8n
Top Tips for Communal Dining
Politely acknowledge others at the table when you sit down. A smile, nod or simple "Hello" will do.
Don't assume everyone at a communal table wants to chat. Look for body language cues.
For a more social experience, go later in the evening.
For a less social interaction, arrive early.
Fun Fact
New York-based restaurant Asia De Cuba is widely credited for starting the communal table trend in North America. The restaurant, which opened in 1997, featured a long marble table that could seat up to 36 diners.