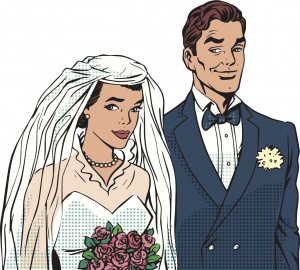 Head down the aisle in geek-chic style
Marriage might not be a fading institution, but the same can't be said of the traditional ceremony. Today, more and more couples are approaching their nuptials with a signature sense of playfulness. And one of the trendiest themes emerging is a style that's affectionately known as -"adorkable." These weddings celebrate not only the happy couple's love but also their shared passions: comic books, board games and reading. From save-the-date bookmarks to Marvel martinis, here are a few wedding trends to inspire.
Comic Book Capers
For many of us, comics harken back to our youth and our sense of adventure. For enthusiasts of the genre, that symbol of adventure is the perfect theme for a day when two people unite to become a dynamic duo.
Inspiration Points
What better way to begin your wedding story than by announcing the date with a personally designed, graphic novel. A four-panel strip or mini booklet will certainly set the tone, but for a little extra fun, why not leave the ending a cliff hanger and have the final dialogue balloon read: "Will they, or won't they?" RSVP to attend and find out.
For the ceremony, continue the theme with boutonnieres and bouquets made from comic book pages, and use the colour palette of a favourite character for the decorations and linens.
At the reception, leave paper and pens at each table so that guests can sketch keepsakes for the happy couple. Gather these notes to "publish" a Reception Edition.
To toast the matrimony, don't forget to raise a specially named cocktail—perhaps a Marvel Martini and a DC Daiquiri to playfully evoke the rivalry between those two publications.
The Game of Life
Adults who remember to keep a playful spirit find fun around every corner. And no matter what our age, playing a board game can make us feel like light-hearted kids again. What a wonderful way to share your wedding day.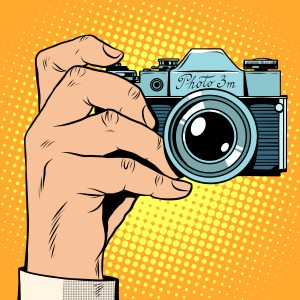 Inspiration Points
To kick off the theme, design your invitations to look and read like playing cards from your favourite board game. To go all-out, deliver the invite in a miniature game box, complete with a folding game-board invite that includes playing pieces or monogrammed dice.
For the reception, set every table with playing cards and board games. And instead of opting for traditional place cards, spell out your guests' names with Scrabble letters. If your signature board game has characters, such as in Clue, hire local actors to portray them and mingle with your guests.
The menu provides another opportunity to knit in your fun theme. Perhaps an offering of Pennsylvania Avenue Pie or Rock'em Sock'em Chicken Satay is in order. For a signature drink, simply rename your favourite cocktail—perhaps a Cranium Cosmopolitan or a Say Anything Sidecar.
A Novel Concept
Ralph Waldo Emerson once wrote, "What's a book? Everything or nothing. The eye that sees it all." The same description is true with love. Lucky for bibliophiles, it is quite easy to mix their love of literature into their wedding celebration.
Inspiration Points
Begin with invitations designed like Dewey decimal cards from the library, for example, or send out "save the date" bookmarks. Continue the theme and nostalgia by including RSVP cards that look like library sign-out slips, complete with a pocket envelope and a note that urges guest to reply by the specified "due date" to avoid late fees.
To walk down the aisle, the wedding party can each carry a favourite book wrapped in ribbon as an unconventional answer to the traditional bouquet or boutonniere. For wedding or shower gifts, the couple could register at a bookstore or ask that donations be made to their local library.
At the reception, divide a short story into multiple parts, and leave only a few pages on each table. It will encourage guests to go on a small journey of their own in order to read the whole narrative. You can also leave blank pages and encourage guests to weave in their own narratives of love and life journeys.
For a signature drink, how about an Old Fashioned Novel or a Tequila Mockingbird? t8n
5 Questions to Ask Your Photographer
Before you say "I do" to your photographer, be sure to ask these important questions:
Can my family take pictures while you are filming?
Will you be shooting digital and/or film? Colour and/or black and white?
Are there extra fees for overtime or travel?
Who owns these photos after the wedding?
Will I receive hard copies and/or digital downloads?
Once you know the answers, ask yourself if that photographer matches your style and expectations.
Alternatives to Floral Bouquets
Buttons, Bottle Caps & Brooches—A little floral wire can transform vintage gems into one-of-a-kind bouquets. Borrow from friends and family, or rummage through thrift stores.
Lollipops—Lollipops wrapped with ribbons make the sweetest bouquets, and the colour palette is limitless.
Paper—Create origami flowers for an everlasting bouquet, being sure to add a few paper cranes to represent good luck and longevity.