Sweet, salty and oh-so garlicy. Fun to eat, too.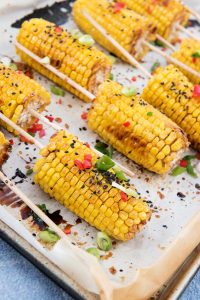 5 ears of corn, shucked and cut in half crosswise

3 tbsp olive oil

2 tbsp melted butter

1/4 cup hoisin sauce

1/4 cup honey

1 tbsp tamari sauce

2 tbsp freshly squeezed lime juice

2 cloves of garlic, minced

1 tsp freshly grated ginger

1 tbsp black sesame seeds (to garnish)

Chopped red chilies and scallions (to garnish)
INSTRUCTIONS
Preheat your oven to 450˚F, and line a baking pan with parchment paper.

Next, combine the hoisin, honey, tamari, lime juice, minced garlic and grated ginger in a small mixing bowl, and set it aside.

Spear each piece of corn with a thick skewer, and arrange the corn on the prepared pan.

Combine the olive oil and melted butter in a small bowl, and drizzle it over the corn.

Cover the pan tightly with aluminum foil, and bake for 15 minutes in the preheated oven.

Next, remove the foil and baste the corn with the hoisin-honey sauce.

Bake uncovered for 5 minutes, and then baste again. Bake five minutes more, then remove to a serving dish and garnish with sesame seeds, red chilies and scallions.