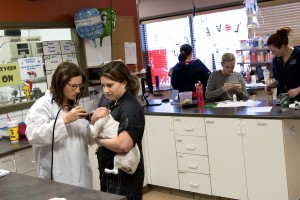 Cuddling with frisky puppies and mewing kittens is cute, but it's just one aspect of life and business at the Tudor Glen Veterinary Hospital. A much bigger aspect, as we discovered on our visit, is that of providing care, support and a life-saving haven for pets—and their owners. Leading that charge is owner and veterinarian Dr. Tammy Wilde. Together with her team of 4 full-time vets and 20-plus support staff, they provide routine checkups as well as preventive and emergency medical care to dogs, cats, and pocket pets such as rabbits, guinea pigs, hamsters—even the odd bird and reptile. But that's not where the care ends. Customer service, education about pet ownership and strong community involvement all make Tudor Glen Vet Hospital a much-valued part of St. Albert's pet and business community. Take a look.
When Dr. Tammy Wilde took ownership of the Tudor Glen Veterinary Hospital in 2001, she set her goal on customer service, going above and beyond simply providing medical care for small companion animals. Nearly 15 years on, the team mission still holds true: to create and foster a warm yet professional atmosphere, where clients' pets are loved and treated as though they are our own.
Wilde also gives back to her adopted city by speaking at open house/career days at local schools and by sponsoring the annual 'Poop-a-thon Cleanup' at the off-leash area of Lacombe Park.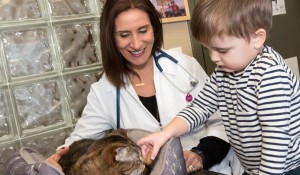 She also hosts clinic blood drives for the animal blood bank, a pet dental education month and one focusing on care for animals in their senior years.
The benefits of pet ownership are many: it teaches compassion and responsibility to children, combats loneliness for the elderly and offers companionship to all. Studies even link pet ownership (especially of dogs) with increased exercise, lowered blood pressure and a rise in neuro-chemicals like dopamine and serotonin. That can translate into improved mood and help with depression, stress and anxiety.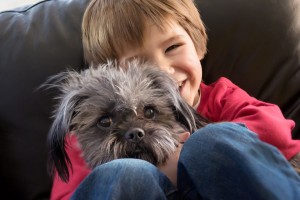 "Pets make an impact on every member of the family—they add joy and unconditional love to your life," says Wilde, who sees increased compassion in her own kids thanks to the family's three dogs, two cats and one gerbil. "The benefits are so many—we want people and their pets to experience as much of the playful, fun part of pet ownership as possible, so education about preventive care is so important. We'd rather avoid pet problems before they start rather than put fires out later."
Though much of the work done at Tudor Glen Veterinary Hospital is routine—physical checkups, nail clippings, spays and neuters—aging companion animals can present illness or injuries that require specialized care. Staff at Tudor Glen do lab work, ultrasounds and offer anaesthetic and surgery as part of complete animal care.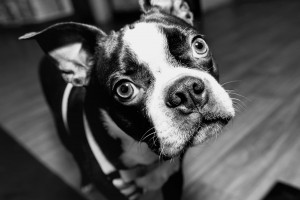 "Most clients are conscientious about bringing their dogs, cats or small animals in for a yearly checkup—and more frequently as that pet ages," says Dawn Phillips, a registered animal health technologist at Tudor Glen. "The vets here think about their patients even when they're not at work. It's a more emotional job than people think. Puppies and kittens are cute, but they get old—we see them all their lives and get attached too."
Phillips also educates clients about pet insurance, an option in the cost of pet ownership that less than half of Canadian pet owners sign up for. Phillips says the savings can be measurable, especially as a pet ages and illness/surgery becomes more likely.
Tudor Glen Veterinary Hospital at a Glance
Location: 1005 Tudor Glen Place, St. Albert
Owner: Dr. Tammy Wilde
Mission: Create and foster a warm yet professional atmosphere, where clients' pets are loved and treated as though they are our own.
Their specialty: Small animals, "exotics" and "pocket pets."
Interesting facts: Dr. Wilde sponsors the annual 'Poop-a-thon Cleanup' at the off-leash area of Lacombe Park and hosts blood drives for the animal blood bank.
Becoming a Forever Home
Here are some other tips to consider when thinking about becoming a forever home to a pet.
Research/choose a pet with similar energy and activity levels to your family.
Consider if there are children/allergies/space restrictions in your home.
Think of all the costs of pet ownership: food, boarding (if you're away), vet checkups ($50 to $100 each year, plus more to spay, neuter, trim nails, etc.) and licences.
Consider pet insurance. It can take away the surprise of large bills in the event of illness or injury. t8n
"This job challenges the brain and emotions—it's an amazing profession where each day is different. There are lots of times you have to kick me out of here at the end of the day. Successes make you feel on top of the world, but unfortunately, there are some things you can't fix. But the effort is worth it. We try hard to make every experience a positive one."
–Dr. Tammy Wilde
"I have a soft spot for abandoned pets—strays and surrenders too, so we work hard to place pets for adoption whenever we can."
–Dr. Tammy Wilde