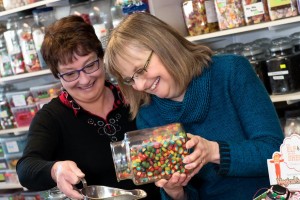 Candy Bouquet at a Glance
Location: 12 Perron Street
Owners: Kathie Fisher and Gisele Sinclair
Specialties: British imports and bouquets made of candy
Interesting Fact: The Candy Bouquet is a franchise. There are three other locations in Alberta: Medicine Hat, Calgary and Lethbridge.
Candy is the ultimate indulgence. Whether we're talking toffee, chocolate, bonbons, gummies or licorice, nothing will sweeten someone's day like a carefully chosen confection. When St. Albert residents want to show someone they care, they head downtown to the Candy Bouquet where owners Kathie Fisher and Gisele Sinclair are ready to candy coat any sentiment.
The Candy Bouquet is an old-fashioned sweet shop with a British twist. "The store opened in May 1996, but we have owned it since March 2000," says Kathie. "Neither one of us is British; it's something we modelled after the previous owners."
Kathie and Gisele are long-time friends and neighbours who have lived in St. Albert for over 30 years. Before the pair bought the Candy Bouquet, Kathie worked there part-time. When she heard that her boss was looking to sell, it was Gisele who convinced Kathie they should buy it. "We both love to travel, so we originally thought running the business would be good part-time work for both of us," laughs Gisele. "It definitely hasn't turned out to be part-time." "But we do get to travel when we want, more or less. Just not together," adds Kathie.
Even with one full-time staff member and seven part-time employees, running the shop is a full-time gig for Kathie and Gisele. The 950-square-foot space is stocked floor to ceiling with hard-to-find candies, many of which are British imports: Floral Gums, Revels, Jelly Babies, Murray Mints and also British pantry items, such as Paxo stuffing and mushy peas. "We see people who travel here from Fort McMurray on a regular basis—and Westlock, too. It's a place that people bring friends from out of town. Some even call us 'the British store,'" says Kathie.
True to the store's name, there's a room at the back of the store where staff create—you guessed it—customized candy bouquets made from cookies, candy, tea, chocolate and even popcorn. And a few of them have definitely been memorable: one was for a stagette and was built in a bra with the theme "May Your Cup Runneth Over." Another was built in a running shoe for a dad who was running a marathon. "It's fun to create personalized bouquets or do a theme," says Kathie. "We can build the bouquets on any flat surface or in anything that has an opening." Gisele adds, "It's a delicious alternative to flowers."
Both Kathie and Gisele feel fortunate to run a business in St. Albert. "The businesses around us encourage customers to shop local. The post office often sends customers here for something extra if their package is underweight, and the health food store has sent customers over for our natural licorice," says Kathie. Gisele adds, "It's a nice community. We appreciate the support from St. Albert."
One thing's for sure, this one-of-a-kind shop makes our city an even sweeter place to live. t8n
Fun Facts
Candy bouquets range in price. A simple pop-tin bouquet (built on a can of pop) starts at $15, whereas a custom bouquet can cost as much as $180.
On average, a bouquet takes a few hours to make, so customers should order custom bouquets at least a few days in advance.
Did You Know?
Remember Pink Elephant Popcorn, Chicken Bones, Pop Rocks or ribbon candy? The Candy Bouquet has them, as well as other nostalgic favourites.