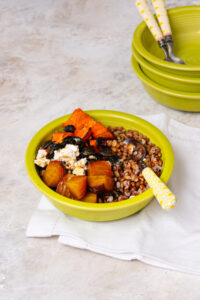 Rye is a nutrient-packed berry and is also very high in fibre. Add it into soups, salads or even as a more nutritious filler in meatballs. Its nutty flavour and chewy texture work well in this nourishing bowl.
1 sweet potato
5–6 small golden beets
2 tbsp. toasted pumpkin seeds
¼ c. feta cheese, crumbled
1 c. rye berries

Preheat oven to 375°F. Line a baking sheet with parchment paper and have a small piece of tinfoil cut for the beets.

Using a fine-mesh strainer, rinse the rye berries. Add them into a pot filled with approximately 6–7 cups of water. Add in a heaping teaspoon of kosher salt. Bring to a boil and then turn down the heat to a simmer and let the berries cook until desired tenderness. For a slightly chewy texture, the cooking time will be approximately 55–70 minutes. 

Peel the sweet potato and cut into one-inch chunks, place on the prepared baking sheet and toss with one tablespoon of olive oil and a generous pinch of kosher salt. 

Cut the ends off the beets, toss them with olive oil and wrap them in the tinfoil. Tuck the tinfoil package in the corner of the baking sheet.

Bake the sweet potato and the beets for 45–55 minutes. Look for char/roasted marks on the sweet potato and the beets should easily be pierced with a fork. 
Dressing
½ tsp. kosher salt
½ tsp. black pepper
¼ tsp. dried oregano
¼ c. olive oil
¼ c. balsamic vinegar
In a small bowl, whisk the dressing ingredients together and set aside.
In a bowl, layer the rye berries in one corner, top with roasted sweet potato, beets, feta and pumpkin seeds. Drizzle with dressing and dive in! This bowl is delicious with all the elements warm, but it also stands up as a next-day lunch served at room temperature.