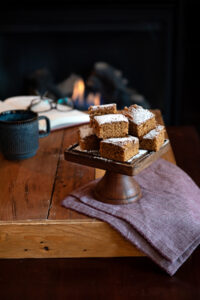 Several cake recipes easily convert into cupcakes. This ginger cake recipe is one of those that can be used to make 18 yummy cupcakes. Whichever way you choose, whether cake or cupcake, both look great with a light dusting of icing sugar or try Turbinado sugar for additional holiday sparkle!
1 c. butter
½ c. white sugar
½ c. brown sugar
2 eggs, large, room temperature
1 c. water
½ c. molasses
2 ½ c. all purpose flour
1 tsp. baking soda
½ tsp. cinnamon
½ tsp. Chai spice
¼ tsp. ginger
½ tsp. vanilla
½ tsp. kosher salt
icing sugar, enough to dust the surface of the cake.
–

Preheat the oven to 350°F. Spray and line with parchment, a 15-inch by 10-inch pan.
–

In a large bowl, combine the flour, baking soda, cinnamon, chai spice, ginger, and salt. Set aside.
–

In the bowl of a stand mixer, cream together the butter and sugar until the colour has turned light in shade. Add in the eggs, one at a time mix until incorporated. Beat in water, molasses and vanilla. Add in the dry ingredients and mix until the batter comes together, it won't take long. Remove the bowl from the stand mixer and scrape down the sides and do a quick stir to make sure all the ingredients have been mixed in.

Pour the batter in the prepared baking dish and bake for 20–22 minutes or until a toothpick or skewer comes out clean once inserted.

Allow this cake to cool for 15 minutes and then remove the cake to a cooling rack to cool completely. Dust with icing sugar, slice and serve! A scoop of ice cream will complement this beautifully.