Most cities have a bar or pub where, as the song goes, everybody knows your name. In St. Albert, that would be LB's Pub. Located 23 Akins Drive, LB's is St. Albert's longest-standing live music and watering hole and a perennial customer favourite. Here is a look at its history.
Late 1980s
In 1987, Linda Beier took over the Greek restaurant Saucy's Pub and Zorba's, located in a small strip mall in Akinsdale. Linda, in her late 30s, had many years of experience as a waitress and bartender. Her mother had a restaurant for a while when Linda was younger, and she helped her run this business.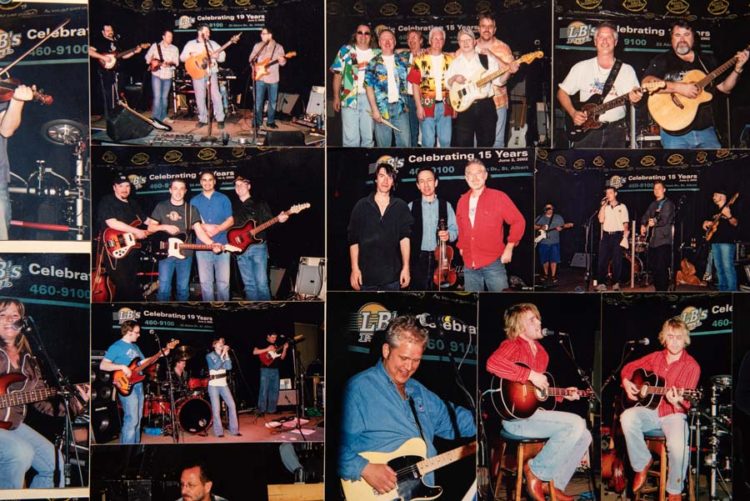 Son Jade Beier was a 16-year-old bus boy who soon to learned to be a waiter. Other son Dion was a bus boy at the age of 10, who cleaned and reset tables on Sundays on the restaurant side of the business. Back then, provincial liquor laws dictated that if there was a pub, there also had to be a restaurant.
Later that year, Linda kept the menu Greek and renamed the restaurant Athens on Akins. She hired belly dancers for the evenings in the dining room while it still had the Greek theme. However, in 1988 the dining room name changed to LB's Country Kitchen, eventually being shortened to LB's.
1990s
At the start of the decade, Linda did a large renovation, removing the restaurant walls, putting the bar in the centre of the room, adding two more pool tables (making it three in total), and adding a stage. She hired bands with four players or more, seven nights a week, but eventually shortened the entertainment evenings to Thursday through Saturday. Linda's husband Pat joined her in 1996 to help run LB's. In 1996, LB's started the Monday night open stage with musician Randy Martin as the host.
2000-2010
Linda did another renovation by moving the bar to the far right rear of the room, putting a railing around the dance floor, adding five 50-inch televisions around the room, and adding the 109-inch projection TV to the large wall from the stage area so the games could still be enjoyed when the entertainment was on. A wooden floor was put down to give the place a warmer, homey feeling.
The range of live music also broadened, from strictly country to including classic rock and blues. Open stages happened on different evenings with a variety of different hosts including Kenny Skoreyko,Fred Larose, Mark Ammar, Rob Kaup, Darrell Barr, and Rocko Vaugeois from country-rock act One Horse Blue.
In 2010, Linda did a small renovation once again by moving the lobby from the middle of the room to the one side so larger parties could be accommodated, as well as adding new decor and updating the washrooms.
2010s-Today
Darrell Barr became the host of the open stage in 2015, and continues to this day.
Linda and Pat tried to sell LB's Pub in 2017, but could not find a buyer. That year, LB's received the Outstanding Customer Service Award of Distinction from Audi Edmonton North, adding to the numerous accolades the pub has received through local media readers' choice surveys.
Jade still cooks on Tuesdays and offers Italian recipes from his past experience as well as many of Linda's home recipes not offered on the regular menu. Other evenings have specials: Monday is steak night; Wednesdays is wing night; Thursdays is chef's choice; and Fridays is fish and chips night. Saturdays also feature the chef's special.
In 2019, Linda again listed the business for sale and found a buyer. This changeover took place on July 15, 2019 with the present owner Satish Sharma, who has left things pretty much the same. After all, why mess with a winner?