Unique brush strokes to painting houses
Jennifer Conneely loves to paint houses. But don't expect her to show up with brushes, cans of latex-based colours, or a ladder to help work her magic on those exteriors. For that matter, don't expect her to appear at the abode at all.
Instead, the type of house painting that Conneely prefers is on canvas, with considerably smaller brushes. She's spent the past few years in her St. Albert home documenting houses and even small business structures onto canvas. She chooses her subjects by walking through nearby neighborhoods, then finding them via Google Maps Streetview and using those images for each work. More remote projects, such as her rendering of a burger joint in Athabasca, simply involve skipping the first step.
"It's kind of a neat experience, because part of the places that I've painted I've never actually been to. I'd go to them after I'd painted them and I'd have some deep connection with the place, but it's my first time ever being there."

Jennifer Conneely
A few of Conneely's works were commissioned by clients locally as well as in the U.S. and Ireland, while others were inspired by a Toronto House series of paintings by visual artist Lawren Harris. But for the most part, Conneely relies on sentiment to select what she paints, opting for a character-oriented home with a run-down appearance.
"It's something that wouldn't be considered an architectural masterpiece. But because it's been there for so long and is considered to be part of the community, it's important to me. It's not something that's going to get saved by any means, because not much gets saved around here."

Jennifer Conneely
Fortunately, she's digitally immortalized much of her art on her blog and Instagram account, where she also sells her paintings. On occasion, she'll get feedback from people familiar with the homes who share stories about the place and the folks who lived in them. "It does create a connection point in the community," added Conneely. "That's been interesting over time as the paintings have been shown."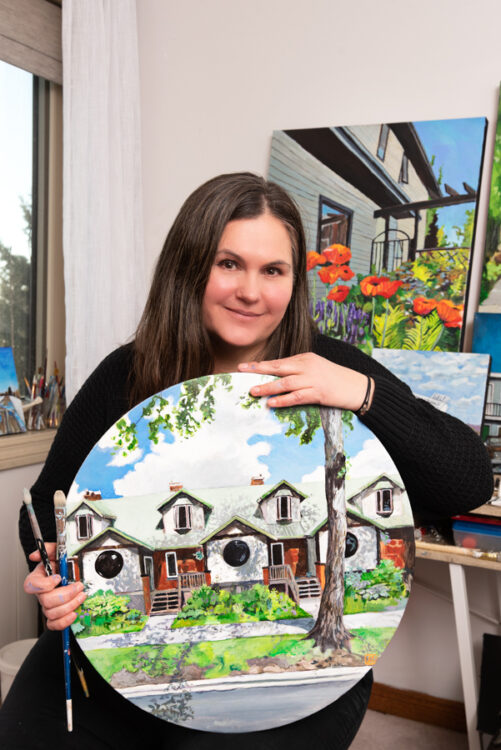 Conneely has received validation of late with a few pieces displayed at the McMullen Gallery, the Art Gallery of St. Albert showing off part of her collection, and canvases included in Art from the Unknown, an exhibition curated annually by Alberta NDP leader Rachel Notley.
For all that, Conneelly still considers herself to be an emerging artist despite having graduated in 1993 with a Bachelor degree from the University of Alberta's Fine Arts in Art and Design program. Working overseas for several years as a teacher and software trainer and starting a family in the process had a way of waylaying her artistic career path. But Conneely realizes that her return to painting is taking place while the world is struggling through a precarious period.
"We're in tough times right now, but it is the art that is kind of keeping people's spirits up and keeping us moving forward." t8n
WHERE TO SEE JENNIFER CONNEELY'S WORK