Even during a pandemic, country artist Hailey Benedict pushes forward.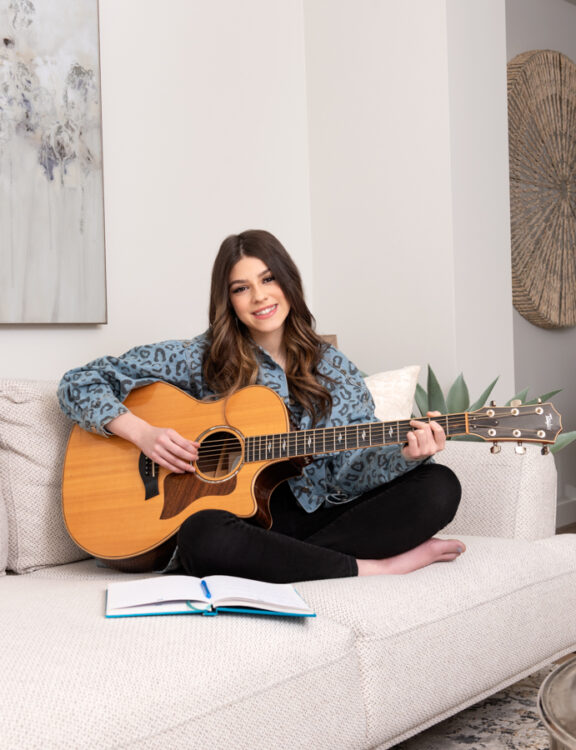 For someone who wrote a song called "Strike 4," St. Albert country songstress Hailey Benedict has a pretty enviable batting average. At 19, with four charted singles in her musical resume, she's already been rounding the bases with a slew of local, provincial and national honours and enjoying a reputation as a crowd favorite in the live circuit.
All of which makes it rather frustrating for the emerging recording artist to spend the beginning of 2022 stuck in the dugout while the rest of the entertainment industry remained sidelined during a stubborn pandemic. In January, a double-vaccinated Benedict found herself quarantined in her family's basement when she tested positive for COVID-19 a day before she was slated to receive a booster shot.
"It's funny, because I'm not the type of person that goes out, so the one time I went out to record some stuff and it turns out my producer had it, so I ended up getting it. It's crazy, you can try as much as you want to avoid it and you still get it."

Hailey Benedict
It's not the viral experience Benedict expected. When she was in her early teens, the singer registered more than five million hits on a YouTube video playing one of her own songs with a gobsmacked Keith Urban beaming in the background. Now 19, Benedict's been building her own audience with a cumulative 16,000 followers on her social media accounts and more than a hundred songs in her creative inventory.
While in isolation, Benedict worked on more descants, stoking the starmaker machinery that so far yielded quite a few encouraging sparks. To date, she's already won such titles as two Association of Country Music in Alberta awards, an Edmonton Music Awards credit, a Global Country Canada award, a St. Albert Mayor's Arts award, and several other distinctions facilitated by radio stations and country festivals.
She's especially proud of her Global Women of Vision honour, which she received in 2017 and that enabled her to network with — and become inspired by — successful people in her gender. She calls herself a feminist in that she's already witnessed glass ceilings in her chosen field and would like to rectify those discrepancies. "There's disparity when you compete in country music or even in the industry where it's harder for women to get radio play," she noted.
Not surprisingly, Benedict is heavily influenced by music superstar Taylor Swift, who's frequently locked horns with movers and shakers in the business, demonstrating a moxie that's motivated the local performer.
"Artists have a very unique opportunity to have a platform to think about issues and that is something I respected about Taylor Swift and the Dixie Chicks. They've used their platform to talk about what they feel might not be right."

Hailey Benedict
Much of Benedict's material parallels Swift's melodic disciplines, but stop short of the full-blown crossover pop direction taken by her idol. "Rise to Your Fall" contains some of Swift's signature spite but isn't anywhere near as venomous. "Next Time Around" starts as a ballad but progresses into a series of beat-laden passages grounded by a haunting steel guitar.
Like Swift, Benedict's material reflects a juggling act of moving forward while keeping her feet firmly planted on Terra Firma. But unlike Swift, Benedict realizes she doesn't have as many balls in the air. Still, for someone who cut her teeth playing charities and senior citizen facilities, the likelihood of any future fortunes going to her head doesn't seem to be a going concern.
"I've been lucky with my family relationship and trying to be a good person," she said. "You have to hold onto the whole reason why you start. I started in music not for notoriety or success, but I liked the way it made an impact on people."
Still, it's okay for an upstart to be starstruck. Her first brush with greatness took place during a 2016 Keith Urban concert at Rogers Place in Edmonton, where the Aussie star pulled Benedict and her sister onstage. In front of 20,000 people, the young teen performed on Urban's guitar an original called "Clean Slate" without any sense of jitters.
"Surreal was the best word I can use for it and it was a very out-of-body experience," she recalled. "I always wondered what it was like from an artist's perspective, just looking out to the crowd."
Benedict will need a few more hits and junkets before she reaches Urban's level. Still, she's itching to get her career trajectory back in motion, should the pandemic subside. But she has at least one priority to address once she finally receives a negative test result.
"I'd like to go outside and hopefully get some air." t8n
WHERE TO HEAR HAILEY BENEDICT
Website
Social Media
Music
available on Amazon, Apple and iTunes