An independent crafter animalizes her woolen inventory
Jen Walter has knitted her share of toques and scarves the past five years and has even applied those skills to creating animal toys from beagles to zebras. But one creation requested by a customer was one that she was hard-pressed to wrap her head around.
"It was a Gruffalo," said Walter, who discovered later that the animal was the title character of a kids' book. "It probably isn't unusual for people with young children but I had never heard of it. It's kind of like a monster meets a buffalo; he was big and brown but kind of had crazy teeth."
Monsters aren't normally Walter's forte as the owner of St. Albert-based sideline gig The Knotted and Hooked Shoppe. Since 2015, after rediscovering the art of knitting and crocheting−skills she learned years earlier from her grandmother−Walter has stitched a niche in the unpredictable gig economy.
Besides beagles and zebras, she has an arsenal of animals up for grabs on Etsy, where she's sold more than 500 of her wares to date. Bunnies, moose and even octopuses vie for attention on her page as well as winter wardrobe items that include ear warmers and headbands. Prices range from $20 to $65, depending on the material quality and the time she puts into creating them.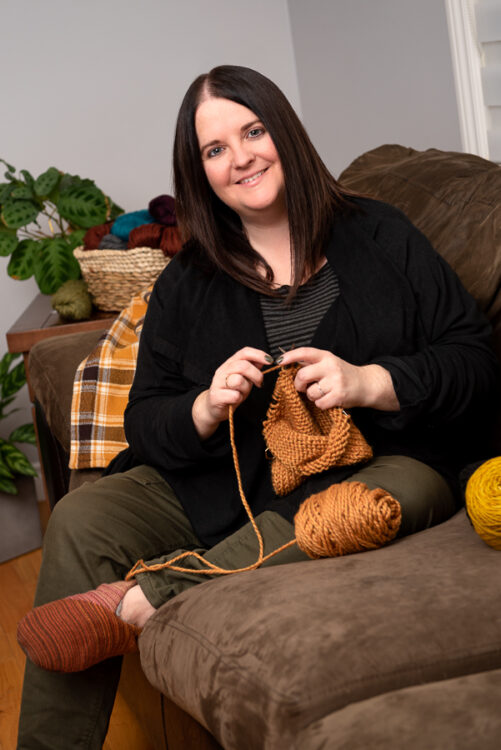 While the fashion accessories seem to be a no-brainer, Walter doesn't decide on what animals to make. They're all based on customer requests. But she found it was more economical to produce those works in groups. "When I make one animal I usually try to make two or three more," said Walter. "It just helps me time-wise. It's easier to make three bodies and heads at once."
She isn't just making her mark on Etsy. The shoppe also enjoys nearly 6,600 followers on Instagram, where customers can also order these woolen items. But regardless of where her customers reach her, those prospects continue to delight the crafty entrepreneur.
"I'm always thrilled when an order comes through to me," said Walter. "I love creating all these items and sales allow me to continue. It's always exciting to makers to hear a new order come through." t8n
The Knotted and Hooked Shoppe correspondence
etsy.com/ca/shop/theknottedandhooked
instagram.com/theknottedandhookedshoppe
facebook.com/theknottedandhookedshoppe