Just Add Air
How inflatable movie theatres can project
the ideal family night outdoors
Drive-in movie theatres have been a summertime staple in Canada dating back all the way to 1946 when the first facility of its kind swung open its gates. After their glory years during the '50s and '60s, the popularity of drive-ins has since lost its sheen, due to the arrival of multiplex cinemas in malls, making it convenient to shop and catch a flick in one stop.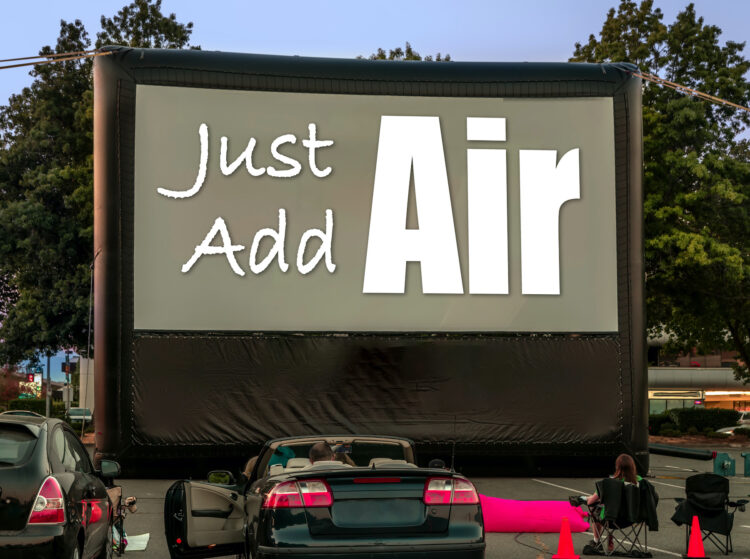 But the pandemic has sparked a revival of sorts, with social distancing allowing for passenger-packed vehicles to flock to spots occupied by everything from outdoor concerts to political rallies. Additionally, a crafty bunch of entrepreneurs have been operating for years realizing that you don't need to own a patch of land to operate a drive-in as long as the infrastructure can be portable via an inflatable giant screen. All you have to do is contract out your services to anyone with a large yard and a hankering to catch flicks the old-fashioned way: outdoors and with eager friends and families attending.
That's how Twilite Music has been operating all across Alberta the past several years, although they have added a few sideshows to the mix.
"One thing that we do that no one else does is that we do a lot of entertainment before and after the movie," says CEO Ron Waterfield.
These add-on packages are delivered in the form of pre and post-movie entertainment such as dance parties, photo-booths, and game shows with prizes handed out. Along with the entertainment, Twilite Music provides popcorn machines, professional stereo systems, inflatable couches, and even an usher to guide you to your seat. This is all featured in their "open-air cinema" package.
While classic Disney fare is popular for children-themed movie nights, Twilite Music also offers themes such as drive-in-style '50s car nights with a screening of American Graffiti. Sports nights and musical nights are also featured in the theme packages, where the likes of Field of Dreams and The Sound of Music are screened. Waterfield says that although children-themed packages are the most popular events, even adults want to get in on the fun and transport themselves to the nostalgic times of their youth.
"I'm getting a lot of parents where they're sitting in the car with boxes of popcorn and saying, 'Jeez, I haven't done this since the '70s, and they're just tickled pink waiting for the movie to start up."
However, it's not as easy as inflating the screen and pressing play on the projector. Under Canadian copyright law, most commercial films viewed in public spaces require a public performance license. These licenses can be obtained through Audio Ciné Films (ACF) and cost anywhere from $275–$400 for single usages, depending on the movie and crowd size. Smaller backyard bashes with family and friends don't apply. When it comes to choosing which films to screen, only home video releases and pre-releases (films in the gap between theatre and home release) can be shown. Films still in their theatrical run do not apply.
TeeBreeze Entertainment is another company that specializes in inflatable movie screens, catering to an assortment of events such as weddings, graduations, company seminars, and even celebrations of life. "Our job is to make the clients' job easy," says event coordinator Ryan Fosteradding that their entertainment packages include clowns, hypnotists, magicians, and bouncy castles for the kids.
Along with the screen and entertainment, concession items like cotton candy, hot dogs, candy apples, and old-fashioned popcorn machines are offered to clients. However, Foster says that the real credit deserves to go to the organizations and volunteers that hire TeeBreeze. "Everyone loves a party, and these people work tirelessly to provide the best for their organizations and guests." t8n
Twilite Music
780-444-4874
(toll-free 1-888-343-3318)
twilitemusic.ca
TeeBreeze Entertainment
780-429-3088
teebreeze.com