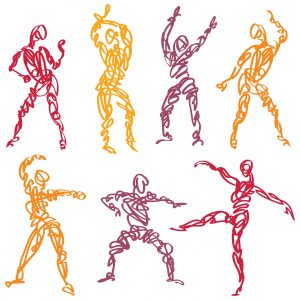 If squats and running stairs don't make you jump out of bed in the morning or rush home from work, there are many other options that might fit the bill. Fitness has become increasingly diverse as entrepreneurs come up with some very creative ways to get people moving. No longer confined to musty basements, exercise has morphed into fashion, colour and novelty. Marketing to a much broader audience, the industry is competing for your dollars by tempting your discerning attention span. To keep things fresh, fun is fast becoming the new pumped. Here are five that might put a spring in your step.
Zumba
What it is: Zumba was the accidental brainchild of choreographer instructor Alberto (Beto) Pérez. Forgetting a premixed aerobics tape for his fitness class, Beto improvised using salsa and merengue music combined with Latin dance moves. After experiencing success in Columbia, Beto moved to the United States where Zumba (no particular meaning) exploded. With nine different class formats, the Zumba brand now oversees a comprehensive multi-million dollar empire of instructor certification, clothing, DVDs and video games.
The pros: People searching for a high-energy boost in the middle of the week find Zumba to be the perfect outlet. Beginners are always welcome, and those with two left feet can hide in the middle or back of the pack.
The cons: Zumba may have had its day in the sun, falling off most 'Top 10 Fitness Trends' lists. As with step classes and leg warmers, regulars tend to migrate to the next new craze. Others have simply graduated to more strength-based options, looking to enhance results.
Know before you go: Zumba can get loud, and—yes—you will trip over your own feet from time to time.
Suspension Training
What it is: Various forms of suspension training have been around for many years, but TRX (Total Resistance eXercise) is by far the most popular. Also popular is the man behind the brand. Finding himself stationed in the desert without proper gym facilities, Navy SEAL Randy Hentrick made do with creative strap configurations combined with body-weight exercises. Today, most gyms have at least one TRX suspension trainer hanging around (pun intended); more if group classes are offered.
The pros: Relatively inexpensive, TRX can fit into any basement—or room for that matter. Body-weight training adds the necessary resistance to work both strength and core. With proper instruction, group classes challenge participants to push their limits—not something most people do on their own.
The cons: Hendrick created TRX because he didn't have other options at his disposal. Today, most gyms have equally or more effective equipment, including free weights that can be added to simple body-weight exercises. A number of TRX exercises fail to facilitate natural movement, making some exercises awkward and less effective.
Know before you go: There are some TRX movements that simply aren't that great. Your TRX workout should include other, more effective exercises. A good instructor should have a well-rounded understanding of resistance and be able to articulate his or her knowledge clearly. If after a couple classes you aren't 'getting it,' the problem may not be you.
SurfSET Fitness
What it is: SurfSET was inspired by creator Mike Hartwick's love for off-season surfing (Mike was a professional hockey player overseas). Discovering that surfing developed great core strength and toned muscle led Hartwick to design a group fitness class in which participants worked out on specially designed, indoor surfboards (called SurfSet boards).
The pros: The SurfSET board simulates the demands and enjoyment of surfing outdoors—without all that distracting sun and surf getting in the way. Your body tightens and tones as it strains to stay afloat on the unstable surface.
The cons: The board and classes can be expensive. The workout is good, but the novelty may quickly wear thin (real waves may help maintain your attention).
Know before you go: Not the most accessible program for people with balance or mobility issues.
Pound
What it is: Founders Kirsten Potenza and Cristina Peerenboom formed Pound from their love of movement, drumming and music. Using drumsticks called Ripstix, instructors guide participants though a rhythm-based, yoga and Pilates-inspired fitness class while drumming. Classes are fun and backed by lots of high-energy tunes.
The pros: Much like spin classes, a successful Pound class comes from great music. A good beat maintains your attention and keeps you inspired.
The cons: Much like SurfSet, Pound is a bit of a novelty. Some participants find that the class under challenges—especially if you're looking for an upper-body workout.
Know before you go: Finding a pound class close to home may be a challenge, as it tends to be more popular in larger urban centres.
Barre
What it is: Barre was developed in 1959 by Lotte Berk, an injured German ballerina looking to rehabilitate and stay trim. The workout was brought to North America in the 70s by Lydia Bach, a former student of Berk's. Over time, instructors branched off and formed their own versions. Barre has experienced new popularity.
The pros: Where available, private, contemporary boutique settings attract those looking for a non-gym experience. Flexibility, postural alignment and core stability are key outcomes.
The cons: Barre can sometimes fall short on delivering cardio and functional strength as movements tend to be somewhat static. Depending on your goals, complement classes with strength and cardio-based options.
Know before you go: Ensure your goals are aligned with the outcomes listed above. Weight loss may not be one of the more prominent results. t8n
Did You Know?
Global obesity rates have climbed 28% in adults over the last 30 years. According to the Neilson Company, internationally, 56% of women are trying to lose weight vs 44% of men. Women more often alter their diet (79% of women vs 70% of men), while men prefer physical activity (75% men vs 69% women).
Fun Facts
The American College of Sports Medicine flags the following as the Top 10 Fitness Trends for 2016:
Wearable technology
Body-weight training
High-intensity interval training
Strength training
Educated, certified and experienced fitness professionals
Personal training
Functional fitness
Fitness programs for older adults
Exercise and weight loss
Yoga