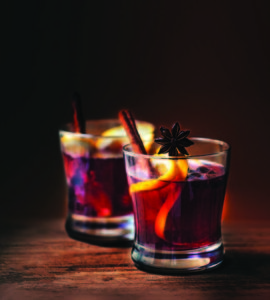 Long before we had characters like George Bailey and The Grinch, we had Charles Dickens to teach us about the true meaning of the holidays. Once the Scrooges were enlightened and the humbugs were in check, Dickens knew that a drink among friends (fictional and otherwise) was a sure way to spread cheer. Here are a few of his and his characters' favourites.
Smoking Bishop
At the end of A Christmas Carol, Ebenezer Scrooge and Bob Cratchit bond over the spirit of Christmas by raising a glass of Christmas spirits. But before that, Scrooge's Christmas reconciliation comes to him while drinking a Smoking Bishop, a Victorian variant on mulled wine.
5 oranges
1 lemon
30 cloves
1 bottle of red wine
1/2 cup sugar
5 cinnamon sticks
1/4 tsp ground allspice
1/4 tsp ground mace
1/4 tsp ground ginger
1 bottle of port wine
Preheat your oven to 350˚F. Then, with a small knife, make 5 small cuts in the peel of each fruit, and insert the cloves snugly inside. Place the clove-infused fruit on a baking sheet, and roast in your preheated oven for 30 minutes or until the oranges and lemon turn pale brown.
Next, in a medium-sized pot over medium heat, combine the red wine and sugar and bring it to a boil. Remove the pot from the heat, add the roasted fruit, cinnamon, allspice, mace and ginger, and let cool before covering with a plate and placing in a draft-free place to steep overnight.
The next day, remove the fruit from the mixture, cut them in half and juice them back into the pot, straining if needed. Add the port wine, and place the pot over medium heat—being careful not to allow it to boil. Serve hot off the stovetop, or pour into a punch bowl and serve.
Athol Brose
A Christmas Carol wasn't Dickens' only Christmas story. In the 1899 novel The Holly Tree, Dickens writes about holiday travellers who meet at the village inn and trade stories over glasses of Athol Brose. This festive Scottish drink combines a few unconventional ingredients but is sure to please adventurous Dickens fans.
1/2 cup oats
1 1/2 cups water
3 tsp honey
5 oz heavy cream
1 oz scotch
1 pinch of ground nutmeg
Combine the oats and water in a bowl, and let them soak overnight. The liquid that will develop is called brose. The next morning, strain the oats, and pour the brose into a small pot. Add the honey to the brose, and bring to a boil over medium heat. Remove from the heat, and stir in the heavy cream. Mix well, let cool and refrigerate until chilled.
When you're ready for your Athol Brose, pour yourself an ounce of scotch, and fill the rest of your glass with the brose. Sprinkle nutmeg overtop, and enjoy.
Gin Punch
Dickens didn't limit himself to his Christmas stories when describing drinks. In David Copperfield, young David's friend Mr. Micawber "never so thoroughly enjoys himself" as when having a Gin Punch.
8 oz gin
4 oz maraschino liqueur
Juice of 2 lemons
4 oz simple syrup
16 oz seltzer water
Simply fill a tumbler with ice, pour in all the ingredients, stir and serve.
Sherry Cobbler
In 1842, Dickens visited America. Slowly but surely, almost all of the cocktails Dickens tasted there made their way into his writing. Sherry Cobbler, for example, became the favourite drink of the title character in The Life & Adventures of Martin Chuzzlewit.
2 to 3 orange slices
1 tbsp sugar
3 1/2 oz sherry wine
Add the oranges slices and sugar to a cocktail shaker, and give them a muddle. Add the sherry and some ice, secure the lid and shake. Strain the mixture into a glass filled with crushed ice, and garnish with seasonal berries or a fresh orange slice.
Sangaree
Sangaree was another American inspiration that made its way into Dickens' writing, this time in the pages of The Perils of Certain English Prisoners, where the drink is shared as characters get to know each other.
1 tsp sugar
6 oz water
2 oz gin
1 ice cube
1 tbsp port
Mix the sugar, water and gin together in a tumbler, drop in an ice cube and gently spoon a tablespoon of port over the mixture so that it floats on top. Enjoy.
Mint Julep
Mint Julep didn't make it into any of Dickens' novels, but it did feature prominently in his letters. He writes of how he and fellow author Washington Irving developed a friendship over juleps and laughter.
1 tbsp sugar
5 oz water
3 to 4 sprigs of mint
6 oz brandy
Seasonal berries
1 orange slice
1 tbsp rum
Add the sugar and water to a cocktail shaker, and mix until dissolved. Add the mint sprigs, and give them a muddle. Add the brandy, secure the lid and shake well. Pour the mixture into a tumbler filled with ice, and add berries and an orange slice to the glass. Lastly, float a spoonful of rum atop the mixture and enjoy.   t8n
Did You Know?
Dickens stood firmly against the popular prohibition movement of his time, believing that the poor and downtrodden deserved the happiness that a good drink could provide.
Fun Fact
One of Dickens favourite drinks was called "the timber doodle," but the recipe has been lost to time. His fondness for the drink was so great though, that he named his dog after it.