Why St. Albertans vote differently federally and provincially
If Las Vegas bookies had to handicap electoral outcomes affecting ridings in which St. Albert resides, don't count on any consistent odds between different levels of government. Federally, for openers, expect to clean up after picking a party with conservative leanings, as right-wing contenders have had a lock in the area since 1958. But provincially, all bets are off when you consider that St. Albertans have voted left and right with pendular regularity ever since Alberta entered Confederation in 1905.
while it's highly improbable that the federal Conservatives will lose the St. Albert-Edmonton riding when the country likely heads to the polls in 2025, the Alberta election − predicted for May − could be a nail-biter. Electoral projection website 338Canada.com reveals the federal Conservatives boast almost a 50 percent lead over other parties in the riding. Meanwhile, the left-leaning NDP is still holding onto the provincial St. Albert seat, although the United Conservatives enjoyed a spike in popularity in late December.
Historically Wonky
Representation is responsible for St. Albert's historically wonky selections at the polling booths, says political science professor Duane Bratt at Calgary's Mount Royal University. "Even during the dynasty decades, federal conservatives would win with much higher percentages than Alberta conservatives," said Bratt, via email, about voting during the Alberta Progressive Conservatives' 43-year grip on the province. "Provincial conservatives for 30 years have struggled in the Edmonton area."
Another consideration brought up by Bratt is how constituents view their representatives. "Federal Liberals and NDP are seen as being controlled outside of Alberta, but provincially, the old Alberta Liberals and the NDP today are seen by a good percentage of the population as being pro-Alberta and representing Albertan issues."
Sporadic Contact
Former provincial politician and Deputy Premier Thomas Lucaszuk, who represented Edmonton-Castledowns under the Progressive Conservative banner, has his own theory.
"Federal politics, which mainly deals with foreign affairs, intergovernmental relations, and other 'high level' impersonal issues, is rather irrelevant to St. Albert residents' everyday life. Only diehard political enthusiasts pay attention to the daily machinations of federal politics and follow their MP's activities in Ottawa."

Former provincial politician and Deputy Premier Thomas Lucaszuk
Lukaszuk argued that most federal MPs aren't very relevant to the folks they represent. "Once elected, they disappear to Ottawa and have only sporadic contact with their constituents. As such, unless there is a 'wave of change' sweeping across Alberta, voters are likely to vote for the name they're familiar with, unable to really evaluate the incumbent MP's performance."
That line of thinking could have been the case for Brent Rathgeber, a Conservative who won the federal seat in 2008, but left the party five years later, to become the only independent to represent St. Albert. The Conservatives struck back, taking away his seat after the 2015 election.
Wide Disparity
Between the two levels of government, the disparity between St. Albert's current political representatives is wide. MLA Marie Renaud is a booster of numerous social programs and issues, in line with the Alberta NDP platform. At the other end of the scale, MP Michael Cooper leans heavily to the right – further than many of his federal Conservative colleagues. Even still, "it is not uncommon for voters to vote differently provincially and federally," added Bratt.
"Provincial politics is largely about social programs, health care and education. When federal parties try and introduce social programs, they have to work with the provinces (like child care). Also, local candidates usually represent about five percent of the vote; the rest is leader-party affiliation."

political science professor Duane Bratt
Bratt also said the country and the province shows a clear split between rural and urban voters. "Conservatives dominate rural Canada and especially Alberta," he said. "We know that there are different voting behaviours between rural and urban ridings, including those ridings that have a combination."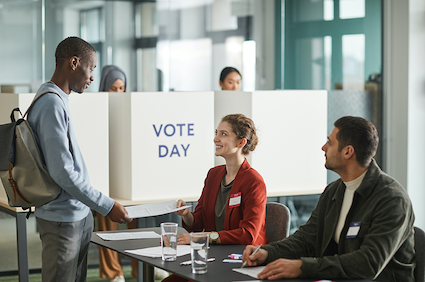 Shifting Borders
That voting discrepancy hasn't historically affected the outcomes in St. Albert, even after its borders have been repeatedly redrawn since 1968, when the city was part of the Pembina rural district. The riding also incorporated part of the Yellowhead region in 1987, before a 2003 reconfiguration limited the area to include the city and part of Edmonton. Despite shifts in rural-urban representation, Conservatives still handily won the seat, a scenario that's unlikely to change, even if the federal government adopts a 2022 proposal to shift the borders again and rename the riding Sturgeon River.
"The current riding boundaries include a significant part of Edmonton, with somewhat different demographics than St. Albert, so there may be differences there, but at the moment there is not enough of a rural population in the riding to be a significant factor. The next redistribution, I understand, will include a considerably larger rural area, and that may make it possible for Michael Cooper to stay in power more easily."

AlbertaPolitics.ca blogger David Climenhaga.
A St. Albert resident, Climenhaga thinks his fellow citizens also vote on what's important for the city, such as park and street maintenance, reasonable taxes, maintaining the RCMP as local law enforcers, and keeping pensions away from the provincial government. "I think they're not overtly hostile to Ottawa; they don't care as much as the UCP thinks they do about federal-provincial jurisdiction," added Climenhaga."They're fiscally prudent and cautiously conservative on budget matters, they're mostly not racists or religious bigots, and to a significant degree they're not paying a lot of attention to federal politics. Yet."
Community Values
Lukaszuk, also from St. Albert, believes the city is "an inclusive, caring, and politically centrist community," citing Renaud and former Progressive Conservative MLA Mary O'Neill as more accurate reflections of the community's values.
Ultimately, the choices of St. Albert voters, once they hit the ballot box, may not necessarily be in line with what current polls are saying. "I would expect that the NDP continues to win this riding," said Bratt. "If the NDP is to form government, they need to hold St. Albert and win more suburban ridings that surround Edmonton. The UCP can form government without St. Albert, but if they win it, they will likely form government."Lukaszuk, however, was more guarded with his response. "Fifteen years in elected office taught me one thing: don't pay attention to polls," he said. "Election Day is the only poll that matters."t8n