Lunch and snack ideas can be challenging when dealing with nut-free environments. For that reason and many others, seed butters are on trend for 2019.  These seed butter muffins give that nutty flavour while maintaining "safe status" to be sent to school or any other place where nut allergies are present.
3 c. bran flakes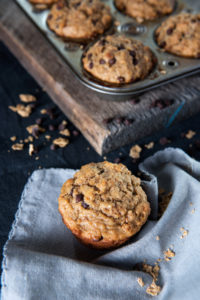 1⅓ c. milk
1 egg
⅓ c. flavourless oil
½ c. seed butter(sunflower and pumpkin work best)
½ c. white all purpose flour
½ c. whole wheat flour
½ c. brown sugar
1 tbsp. baking powder
½ tsp. salt
3 tbsp. cookie butter
⅔ c. mini chocolate chips
Preheat the oven to 400°F and grease or spray a 12-cup muffin tin, set aside.
In a bowl, combine the milk and the bran flakes, set aside for 10 minutes while assembling all the other ingredients.
In a bowl, whisk together the oil, egg, seed butter, cookie butter and sugar.  In a separate bowl, combine the flours, salt, baking powder and chocolate chips.
Add the wet mixture into the dry mixture bowl and stir to combine.
Fill each muffin cup ¾ of the way full and bake for 15-18 minutes.
Cool on a wire rack.
These muffins freeze well, so they are a great make and use in the future recipes!
Treating cocoa powder to an alkalizing solution, reduces the acidity and darkens the colour of the cocoa powder. Extra-alkalized cocoa powder or black cocoa powder has a deep, rich colour.