Chai tea lattes are like a spice market in a mug. They are warm, inviting and fragrant. Have this spicy tea mixture in the fridge and simply froth it together with warm milk when the other side of the world beckons!
4 black tea bags (decaf or full caff)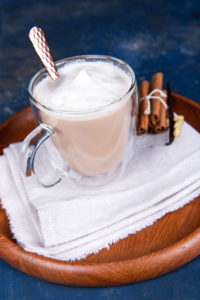 5 c. water
4 cinnamon sticks
knob of fresh ginger
4 whole cloves
6 cardamom pods
6 black peppercorns
1 vanilla bean pod
2 allspice berries
⅓ c. – ½ c. honey
Use enough milk for a 1:1 ratio of mixture to milk, depending on how much is used at a time.
In a medium saucepan, combine the water, cinnamon sticks, ginger, cloves, cardamom pods, black peppercorns, vanilla bean and
allspice berries.
Bring the mixture to a boil and then reduce to a simmer. Simmer this mixture for 20-25 minutes.
Pull this mixture off the heat and add in the tea bags, steep for 20-25 minutes. At this point add in the honey; the exact amount can be varied based on personal preference to sweetness.
Pull the tea bags out and strain the mixture into a glass jar. This mixture will keep in the fridge for up to two weeks without the milk.
Take it out and mix equal amounts of spice liquid and milk for a comforting, aromatic treat day or night.