Turmeric is one of many "it" spices for 2019. With its bright yellow colour (thanks to circumin) and its many touted health benefits, it might be worth checking out this year. Try making this Jamaican curry powder blend coupled with sweet corn and rice for a new fan favourite.
Jamaican curry blend: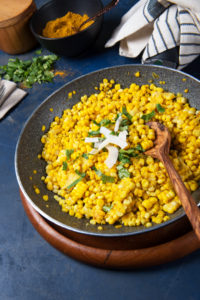 2½ tbsp. turmeric
1 tbsp. coriander seeds, toasted
1 tbsp. cumin seeds, toasted
2 tsp. fenugreek seeds, toasted
2 tsp. yellow mustard seeds, toasted
2 ½ tsp. black peppercorns
1 tsp. allspice berries, toasted
1 tsp. ground ginger
⅛ tsp. cayenne
3 whole cloves
For the seeds that need to be toasted, heat a skillet over medium heat and combine the coriander, cumin, fenugreek, mustard and allspice in the pan. When the spices become aromatic, it is time to pull them off the heat.
Add the now toasted spices to the turmeric ginger, cayenne and cloves. Either a mortar or a spice grinder will whiz this mixture up into a powder. This curry blend will keep in an airtight container.
Note: A cheap coffee grinder works wonders as a designated spice grinder!
Curried corn:
In a skillet, heat olive oil over medium heat until it shimmers. Then add the corn from 6 ears of corn, 2 tsp. salt, and ¾ -1 tsp. Jamaican curry blend. Cook 5-8 minutes or until all the ingredients have combined and are warm.
Coconut rice:
Any rice works, but to balance this out into
a main course, brown rice is the ticket.
Soak 1 cup of brown rice in a pot filled with water overnight. Drain and rinse and then add ¾ c. coconut milk and ¾ c. coconut water with 1 tsp. of kosher salt.
Bring the rice mixture to a boil and then turn down to a simmer. Continue to cook the rice for one hour until the liquid is absorbed, stir a few times throughout the cooking process.  Once off the heat, let it sit for a few minutes then fluff and serve.