Berbere is an Ethiopian spice blend where the main flavour is chili, but also features the flavours of fenugreek, coriander, cumin and ginger. It can be made from scratch, but the one used in this recipe was found at The Silk Road Spice Merchant.
⅛ c. olive oil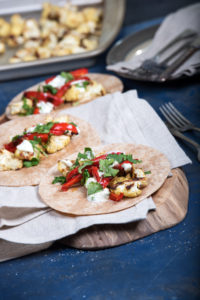 1 tsp. kosher salt
½ tsp. Ethiopian berbere spice blend
1 tsp. chicken bouillon powder
½ head of cauliflower, cut into evenly
sized florets
Flour tortillas
Freshly chopped cilantro
Yogurt dip (see note)
Chopped roasted red peppers
Preheat the oven to 450°F.
In a small bowl, whisk together the olive oil, salt, spice blend and chicken bouillon powder.
On a baking sheet, toss together oil and spice mixture with the cauliflower florets.  Ensure the cauliflower is evenly coated with all the ingredients. Roast in the oven for 30-50 minutes until they are slightly charred and crispy. Make sure to toss halfway through the cooking time.
To serve, warm the tortilla, fill it with the roasted cauliflower and top with roasted red pepper, chopped cilantro, and a drizzle of yogurt dip.
For the yogurt dip combine ½ c. Greek yogurt, ½ tsp. of both salt and pepper, a splash of lemon juice, 1 tbsp. olive oil and 1 tbsp. finely chopped cilantro.
This spice blend is also delicious on toasted whole almonds as an appetizer!