Black cocoa makes for a dramatic look in this decadent crunchy, creamy sandwich cookie. For a touch of whimsy roll the sides of these cookies in sprinkles!
Cookie tops & Bottoms: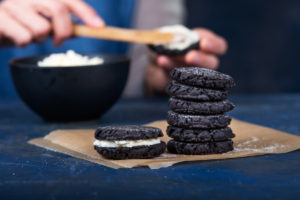 ½ c. black cocoa
¾ c. brown sugar
¾c. white sugar, extra for rolling
the tops and bottoms
2½ c. flour
1 tsp. baking soda
½ tsp. salt
¼ tsp. baking powder
2 eggs
1tsp. pure vanilla extract
Icing:
½ tbsp. vanilla bean paste
½ c. room temperature butter
1¼ c. icing sugar
Preheat the oven to 350°F.
Line two baking sheets with parchment or use a silicone baking mat, set aside.
In a bowl, combine the flour, baking soda, baking powder, salt, black cocoa and baking powder. Whisk to combine.
Using a stand mixer or a hand mixer, cream together the butter and the two types of sugar. Add in the eggs and then scrape down the bowl. Add the vanilla and beat to combine.
Into the mixing bowl, slowly add in the dry ingredient mixture. Start on low speed and blend the dry ingredients into the butter, sugar, egg mixture. Mix until fully combined.
Using a small ice cream scoop, scoop out as many tops and bottoms as the dough will allow and place on the lined baking sheet.
In a small bowl, put about ½ cup of granulated sugar. Dip the bottom of a drinking glass in the sugar and then press down on each cookie. Flatten them all to the same thickness.
Bake the cookie bottoms and tops for 15-18 minutes. Let the cookies cool on the sheet for 10 minutes and then transfer to a cooling rack to completely cool.
While the cookies are cooling, Mix the ingredients for the filling together. To get a smooth consistency, a stand mixer or hand mixer work the best.
Finally, assemble the cookie sandwiches by spreading ½ tablespoons of the filling on each cookie bottom and then placing a top cookie on and squeezing the two cookies together so the filling reaches the edges.
Enjoy!
The cookie tops and bottoms can be made ahead and frozen. Just bring them up to room temperature when you're ready to assemble!