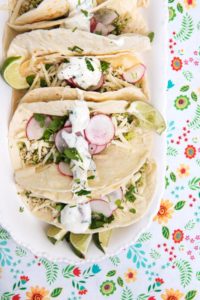 This recipe gives a texturally similar experience to a beef-based taco. Riced broccoli is the star of this meal combined with fresh flavours like cilantro and lime. Bright and delicious!
2 c. riced broccoli
1 c. cooked brown rice
1 tsp. whole coriander seed
⅛ tsp. chili powder
1 shallot, finely chopped
1 tbsp. olive oil
1 tsp. kosher salt
½ tsp. ground black pepper
zest of 1 lime, divided
2 tbsp. chopped cilantro, divided
1c. sour cream
1 chopped avocado
1 c. grated Monterey jack cheese
salsa
lime wedges
Ricing Broccoli:
Remove the woody stems of the broccoli, do a rough chop of the broccoli heads and pop into the food processor. Pulse until the broccoli resembles
rice grains.
In a small frying pan over medium heat, toast the coriander seed until fragrant. Using a spice grinder or mortar and pestle grind the coriander and use ½ tsp. for the recipe.
In a large sauce pan, over medium heat sauté the shallot until soft.  Add in the chili powder and ground coriander, toss to coat the shallot in the spices. Next add in the riced broccoli, cooked brown rice, salt and pepper.  Turn the heat down to medium-low and let those flavours develop for 6-8 minutes. Towards the end, stir in half of the lime zest and half of the chopped cilantro.
While that is happening, either in a small frying pan on medium or in the oven set on broil, toast the tortilla shells. t8n
Cilantro Cream
Stir the one cup of sour cream with the other half of both the cilantro and the lime zest. Add in salt and pepper to taste.
In a warm, toasted tortilla, put a scoop of the broccoli rice mixture in the centre and then add to personal preference, chopped avocado, cheese, salsa, cilantro cream and finish with a squeeze of fresh lime juice to brighten everything!