Continuing to win converts with its meatless options.
Establishing a business can be a challenge during the best of times. However, hanging your shingle in front of a vegan restaurant in Alberta, where AAA, grain-fed beef is a literally a culinary icon, presents itself with a different set of obstacles altogether. Somehow, kb&co has managed to convert even the most stubborn carnivores in St. Albert into chowing down on more plant-based offerings.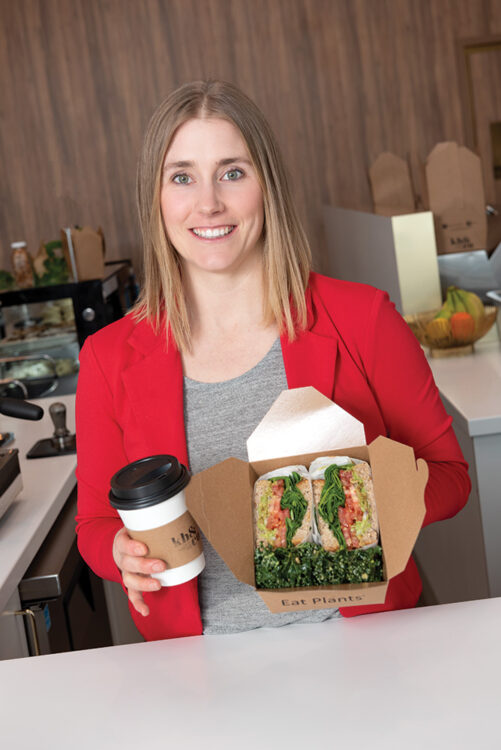 "I've witnessed meat-loving dads come in on dates with their teenage daughters and complain about the lack of meat, only to later come up to me and rave about how flavourful and delicious their food was. I've witnessed friends being dragged in by a regular customer to simply give it a try and wind up loving it. I believe we can all use more whole, healthy foods in our lives and kb&co offers that."

co-owner Kristi Huot-Besler
Those weaned on steak and taters might get bewildered after gazing at kb&co's green-oriented menu offering breakfast dishes that include oat and hemp seed berry waffles and cashew cream cheese avocado toast. They would also need to get used to the idea that they're unlikely to find chunks of cattle in the restaurant's Thai lentil stew. Ditto for the house chili, which contains a blend of three types of beans, quinoa, bell pepper, onion, mushroom, tomato, and sweet corn topped with avocado, sweet
chipotle cashew cream, tortilla chips and even more quinoa.

Co-owner Ashley Turner believes the selection addresses the needs of regular health-conscious consumers.
"However, every day we meet new customers coming to us with dietary restrictions due to an illness where they have been encouraged by their doctor to focus on consuming more plant-based foods."

Co-owner Ashley Turner

Three years after kb&co opened its doors, the café already enjoys a regular clientele; roughly three-quarters of them are already known by name to Turner. Big favorites include the coconut BLT sandwich, chipotle taco wrap, and the coco bean smoothie.

"Almost every second order is one of those items," said Turner.

Billing itself as a café that offers casual conscious eats, kb&co also reflects the personal dietary choices of the two owners. "I have always eaten this way," said Turner. "Conscious eating is giving our body the nutrition it needs for optimal health, function, and energy. I felt like more people would eat this way if it was readily available."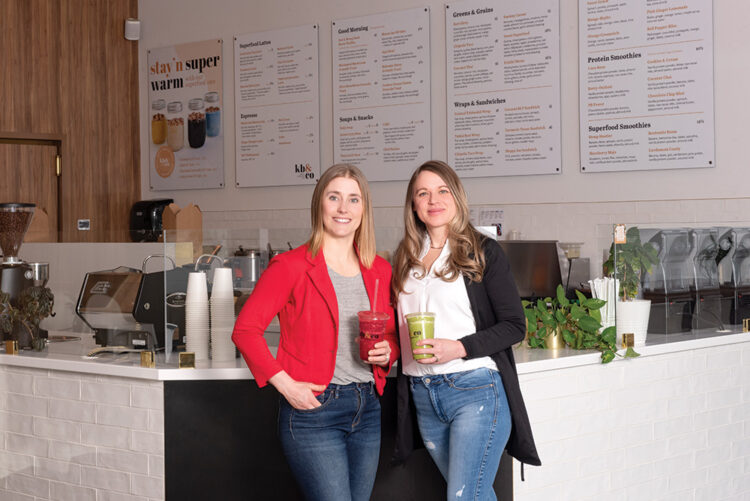 Huot-Besler was an Edmonton-based police officer for five years and had no designs on being a restaurateur. But when she returned to the force after a year of maternity leave, she decided to abandon a law enforcement career and open a day home instead. At the same time, her family started pursuing a vegan diet, once her research found that some so-called healthy food also contained harmful chemicals. She also provided that same vegan diet for the children at her day home, even experimenting
with ingredients.

"I made all snacks from scratch making things I had never considered before such as snacks made from chickpeas, vegan macaroni and pancakes made with lentils," she added. "It's amazing to experience foods that taste delicious when you can see every ingredient go into them and know that it all added benefit to your body."

The St. Albert location of kb&co is one of the seven outlets in the chain founded by Edmonton entrepreneur Kristina Botelho, who also has set up three eateries in the provincial capital, and one each in Sherwood Park, Calgary, and Kelowna B.C. What's impressive about kb&co's origins is that it's a real rags-to-riches story chronicling the struggles Bothello endured to carve her prosperous career path. A foster child raised in B.C. who faced the hardships of being a single mother, she worked her way up
the hospitality ranks starting as a raw food chef to eventually opening her first kb&co business in 2016. She's been adding eateries ever since.

"I think Kristina's story is an incredible example of perseverance and determination," said Huot-Besler, who became a partner with Turner earlier in 2023, "a true testimony to the fact that we are all in charge of our own lives and our circumstances do not define us."

Turner and Huot-Besler had to apply Bothello's fortitude lessons when their St. Albert operation celebrated its grand opening early in 2020, just when the World Health Organization declared the spread of the coronavirus as a global pandemic. They had to let go of a few staff, deal with supply shortages and inflation issues and opt for take-out delivery via customers dropping in and signing up with services like Skip the Dishes and Uber Eats. Turner believes that the fact kb&co was bent on creating
nutritious food to its customers worked out for them in the long run.

"If anything, this pandemic has made people more aware of their health and how they can better themselves by cutting out processed food and eating as healthy as possible," she said. "As I always say, health is wealth."
kb&co
210- 840 St.Albert Trail