Creating a community feeling for its clientele.
You don't need to contort yourself into a pretzel before you're allowed to set up your mat at Lahari Yoga. The studio's owner, Larissa Whiting, has made it a personal mission to accommodate folks of all shapes, sizes, and abilities.
"There is a community feel," said Whiting about the facility she took over in 2014. "We always say all vibes welcome. We don't mean just people who can touch their toes or just bendy people. We mean all humans welcome. And that means you're welcome to any class; I always give options. But it's more about being in your body and letting go of what you think you should do, and being okay with what you can do."
The class menu is so extensive, it's hard to figure out who'd be left out. Lahari offers instruction with options geared towards beginners, seniors, toddlers, working folks, and even pre-natal moms. Other selections are even more eclectic with classes dedicated to hot yoga, power yoga, sessions involving meditation, pain relief, deep stretching, and − for 
the posterior-conscious − booty shaping.
Classes take place in Lahari's Sun Room (ideal for hot yoga) or the relatively cooler Moon Room. Participants can also relax after sessions in the Om-Nom Lounge. Some 40 instructors are on hand to ensure all those classes run smoothly, no easy task since several of those sessions are packed.
"It has been crazy busy. Up until the pandemic, we were shoulder-to-shoulder bumping in here. It's starting to be that way again, because everybody in the fitness industry really had a rough time."

Larissa Whiting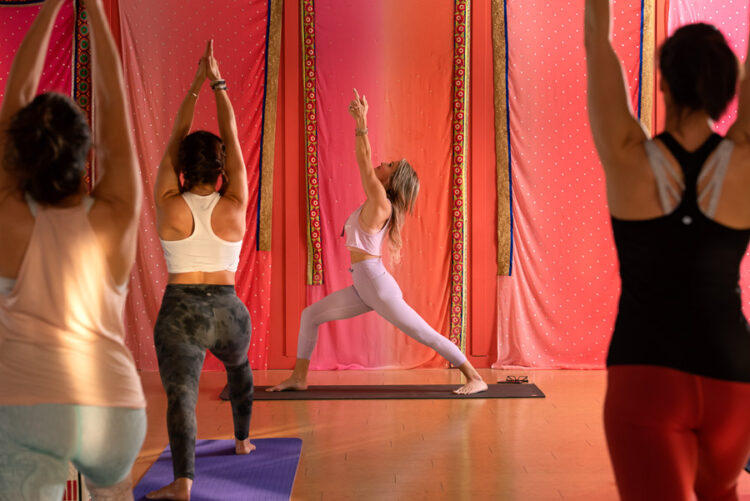 During the pandemic that first took hold of the city in 2020, Whiting had to shut her facility down six times. Savings she socked away before that lean period kept Lahari going until the government lifted health restrictions.
Health has been the cornerstone of Whiting's professional life ever since she graduated with a BSc in Nursing, specializing in cardiology, from the University of Alberta during the '90s. She opted to go straight into the workforce, rather than accept an opportunity to skip a Master's and head into a nascent Ph.D. Nursing program, a decision over which she still kicks herself. "Looking back, I felt crazy about not doing it," Whiting added.
Taking time off to raise a family, she took up yoga to keep in shape and eventually thought about becoming a yoga therapist, where she could get a Master's degree in yoga therapy. She applied to online universities stateside, but didn't have some of the prerequisites, including yoga teaching credentials. Those she received after she began teaching at St. Albert Yoga, the only studio in the city at the time. During the pandemic, she finally earned a master's of Arts in counselling psychology through long-distance learning via Halifax's Yorkville University.
"What really resonated with me was the psychological, emotional benefits that yoga can do. There is massive research show how great yoga is for helping with PTSD, trauma anxiety and depression. I can now go full science nerd and scream from the rooftops about how there's so much now scientifically about why yoga is good in the psychological realm."

Larissa Whiting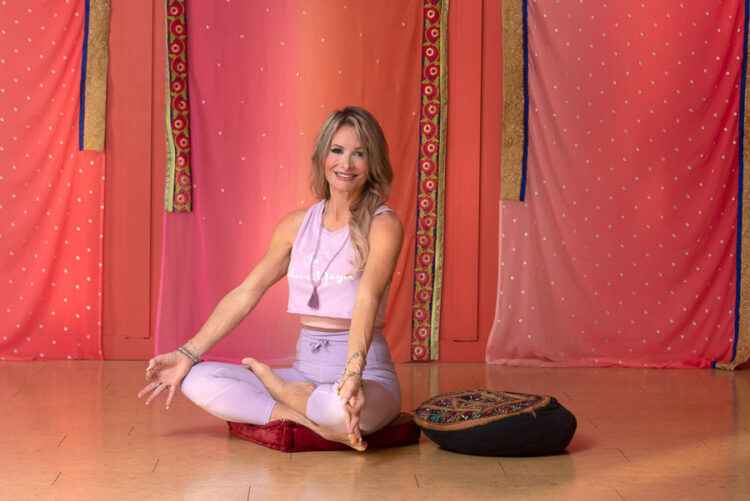 Whiting doesn't have to go to such extremes to get the word out. She can instead rely on social media, a tool she used to great effect shortly after she took over St. Albert Yoga and changed the moniker to Lahari. "It was the main boom in the early days, because nobody else was doing it," said Whiting. "It was very innocent because I had friends on Facebook, I was excited and I wanted them to bring their kids, I was taking pictures of us doing yoga and it just hit like wildfire." Those virtual flames still flicker thanks to 3,700 Facebook friends, 13,900 Instagram followers, and nearly 8,000 Twitter followers.
Lahari is also buoyed by yoga's acceptance over the years. Once dismissed as a hippie fad during the flower power movement of the '60s, yoga is recognized by healthcare practitioners as a benefit to people's physical and mental well-being, backed by plenty of academic research. "The nurse in me loves it because I do speak that language of science," said Whiting. "But I also love the emotional feeling that people say they have."
Whiting added that patrons are also no longer intimidated by the sacred roots of yoga, first practiced centuries ago by Hindu and Buddhists. "People are starting to be less threatened by it being something that's a religion you have to follow. It isn't. It's a physical practice that you can take whatever beliefs you have onto the mat with you."
Even though Whiting has seen more men and athletes sign up for classes these days, she says she ensures that the studio environment is beneficial for everyone. "The more you do, the better you get at it," she said. "It's no fun being stressed about the whole time that you've spent there. Our instructors stress that you're good exactly as you are and you belong here no matter what. That is our vibe."t8n
What really resonated with me was the psychological, emotional benefits that yoga can do.
– Whiting
LAHARI YOGA LTD., YOGA + COUNSELLING PSYCHOLOGY & THERAPY
Larissa Whiting (MACP, BScN, E-RYT500, YACEP)
200-86 McKenney Avenue Lahariyoga.ca | [email protected]