Unique works from St. Albert's visual arts community.
Brenda Malkinson believes the store she runs in St. Albert Place as probably the best-kept secret in the city, although her customers would more likely call it a happy accident when they first stumble across the establishment. 
"Almost every day, I hear from people who say, 'I didn't know you were here!'" said Malkinson, the shop manager of W.A.R.E.S., short for Works of Art Representational of Every Studio." We're kind of down the hall from the library, but what's really fun is when people discover us, they're back time and time again. We get a lot of repeat customers from people like that."
Granted, the gift shop doesn't have conspicuous signage to draw the masses and it's open less than 13 hours a week. But in St. Albert's culture community, W.A.R.E.S. is a critical revenue stream for visual artists seeking a financial return for their works, all of them hand-made.
A kaleidoscope of colour and eclecticism greets viewers passing through the entrance of W.A.R.E.S., where walls and shelves accommodate such items as prairie landscape paintings by Peg McPherson, mugs of city images by Margaret Belec, olive-green plates by Potter Shirley Randall, marble clay bowls by Willie Renema and surrealistic field creations by Charity Ambs.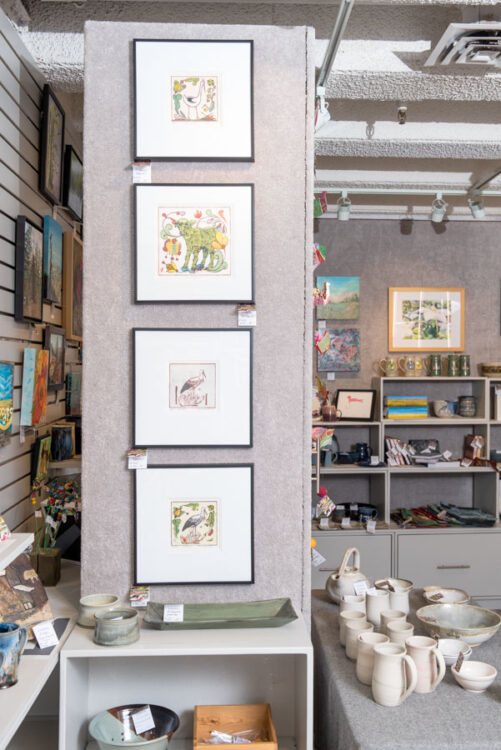 Malkinson is particularly drawn to the wooden clocks crafted by woodworker Julie Hage. "She sources the wood from various places and puts together interesting combinations of wood," she said. "Sometimes she uses different sizes of pieces like barn wood. They look pretty cool."
W.A.R.E.S. normally adds new pieces weekly by artists whose works go through an acceptance process that involves an appointment and a prerequisite requiring the creator belongs to an established guild in St. Albert.
"They bring the work in and we assess it as a committee. If there's some work that's maybe not to standard, then we certainly don't accept that. But we accept a limited amount from each artist basically all the time."

Added Malkinson
Limited exposure notwithstanding, Malkinson said the staff is usually quite busy with customers, especially during December's holiday season, when W.A.R.E.S. sells the most of its visual arts goods. "I would say that a lot of work that goes out of here is a gift for someone else, so we're just a great shop for that," she said.
Pottery, like pots and mugs, account for the biggest sellers at W.A.R.E.S. According to Malikson, those items comprise the bulk of the inventory in the shop, given that roughly 100 artists are members of the St. Albert Potters Guild. Less prominent items include the covers, duvets and bedspreads by the relatively smaller St. Albert Quilters Guild, although those articles sell relatively well. Other big sellers include items that tend to fall between the cracks of artistic disciplines.
"We also have stained glass and those artists tend to belong to the painters guild, because we don't have a stained glass guild in the city, and the stained glass actually does quite well."

noted Malkinson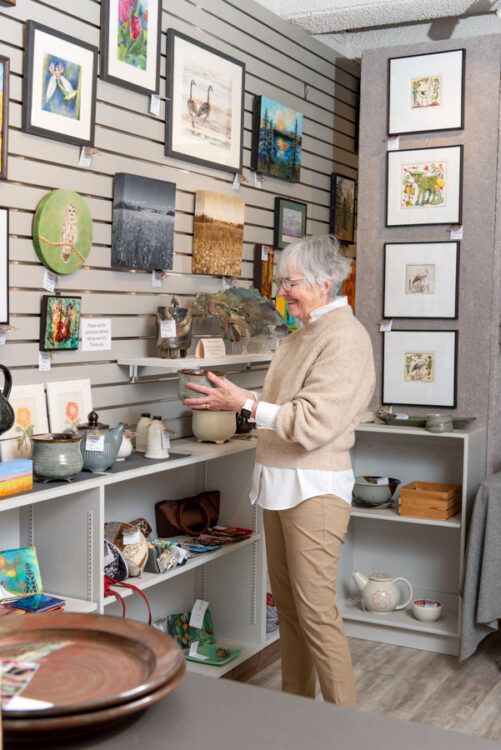 W.A.R.E.S. is operated by the St. Albert Place Visual Arts Council, which follows a mandate to foster awareness of such artistry in the city. In turn, the council runs under the umbrella of St. Albert's cultural services department, the first such public service branch to ever be established by any city in Canada. And while W.A.R.E.S. conducts all of its transactions in the shop, it also takes part in a few outreach initiatives such as the city's Artwalk event that runs every first Thursday of the month during the summer. It's that type of backing from the city and arts patrons that makes W.A.R.E.S. an attractive workplace for staffers like Malikson.
"We're really well supported by the community," she said. "I know a lot about the work in here, so I know can tell people about all the work that went into the paintings and pottery that customers didn't know already. That kind of stuff. We have some pretty good conversations in the shop." t8n
W.A.R.E.S.
Main floor, St. Albert Place
5 St. Anne Street
780-459-1690
Open Thursday & Friday
noon-3:30 p.m. and Saturday
10 a.m.-3:30 p.m.
Guilds Represented At W.A.R.E.S.
Floral Art Society of St. Albert
St. Albert Painter's Guild
St. Albert Paper Arts Guild
St. Albert Potters Guild
St. Albert Quilters' Guild