It's finally here—grilling season. And what better way to break in the BBQ than with a few new tricks. Unexpected ones! Grilled lemons, romaine, figs, fennel and carrots. Besides making spectacular side dishes, they're all equally delicious as leftovers—if you're lucky enough to have any. Happy grilling.
Lemons—Grilling lemons helps release their juices and brings out their sweetness. Squeeze them over grilled salmon, chicken and calamari, or use the juice in any vinaigrette. To grill, simply cut the lemons in half, brush them with grapeseed oil and sprinkle with a little salt and pepper. Next, place them cut-side down on the grill until slightly charred and softened (5 to 10 minutes).
Hearts of Romaine—Grilled lettuce may seem like an odd concept, but try it once, and you'll be a believer. Split the hearts of romaine in half lengthwise, brush with olive oil, sprinkle with salt and pepper and grill for 2 to 3 minutes on each side until slightly charred. Serve them whole with a drizzle of olive oil, a squeeze of grilled lemon and a grating of Parmesan, or chop them up and toss them with your favourite Caesar salad dressing. Add grilled steak or chicken for an unforgettable salad.
Carrots—Grilling carrots brings out their sweetness and adds a depth of flavour that not even a roasted carrot has. Grill them whole over medium-high heat for 25 minutes (rotating every 5), or cut them diagonally into medallions, and thread them onto wooden skewers that have been soaked in water. When they are almost cooked, brush them with a salty and sweet soy glaze: equal parts honey and soy sauce with grated ginger and garlic to taste. Delicious.
Fennel—Grilled fennel is working its way onto menus everywhere. But don't wait to go out to enjoy them. Grilling them at home couldn't be easier. Simply slice off the ferns, cut the fennel in half lengthwise, drizzle with olive oil, sprinkle with salt and pepper and slow grill them over medium-high heat until they're tender and golden brown (about 12 minutes per side). For a quick dressing, drizzle the tops with a little balsamic vinegar and a sprinkling of salt, or dress them with a squeeze of grilled lemon and a grating of parmesan. Add the leftovers to pasta salad.
Figs—If you're looking for a recipe to impress, grilled figs are a game changer. There's only one secret to preparing them, and that's a super hot grill. Too low a temp and they will stick. Simply cut them in half, brush them with grapeseed oil and grill them cut-side down for just over 1 minute. For a fabulous warm salad, toss the figs in a bowl with some feta, arugula and a handful of chopped pistachios. Drizzle with a honey-
balsamic vinaigrette. Unforgettable.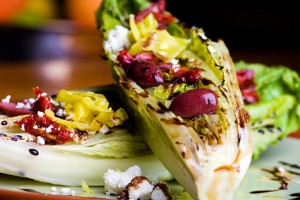 Shake It Up
Making a vinaigrette is as easy as shaking
a few ingredients in a jar:
1 orange zested and juiced, 2 tbsp each
of honey, walnut oil and balsamic vinegar, 1/2 tsp of salt and pinch of freshly cracked pepper.
Perfect drizzled over grilled figs or brushed on grilled chicken, pork or shrimp.