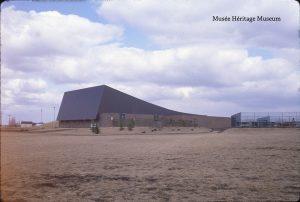 The community of Forest Lawn has a little bit of everything. It's home to a number of beloved schools, parks and businesses, a wonderful recreation centre and, of course, picturesque neighbourhoods that sit beneath a canopy of elms. But even though there's a certain timeless quality to those winding streets, Forest Lawn isn't that old by St. Albert standards. Having been around for only 46 of the city's 155 years, Forest Lawn's story is one of rapid growth and development during the 1970s, quickly establishing itself as an integral part of our city. Here's a look back.
1970s
Before Forest Lawn was founded in 1970, much of the land was indistinguishable from the surrounding farmland. But upon obtaining a development grant from the provincial government, St. Albert's town council decided to transform the area into a residential district to accommodate the town's rapidly growing population.
Maps were drawn, streets were paved and homes were quickly put in. But there were still large gaps of land in the community that the town council simply couldn't decide what to do with. Some wanted more residential zoning, while others wanted to sell it to private developers. The debates raged, and the land remained empty.
One of these plots was already home to Paul Kane High School, though not the same Paul Kane we know today. Quickly after Forest Lawn's founding, it became clear that the small school would not be able to accommodate the large amount of children moving into the area. So, in 1973, a new school was constructed across the field that took both the name and the students from the original building. The old Paul Kane was renamed Lorne Akins Junior High, after the original owner of the land upon which the school was built.
Bit by bit, the land around the two schools began to fill out. The St. Albert Daycare opened its doors in 1976, and the St. Albert Protestant Schools District Office followed soon after. In 1978, Fountain Park Recreation Centre opened its doors, becoming the first indoor pool in the city. Forest Lawn became the premier destination for St. Albert's swimmers.
Early on in development, a commercial zone was planned that would hold the Shell gas station, as well as an assortment of local business spaces. However, having a shopping centre so close to a major school zone worried many parents, as it was thought that such a space would have a "corrupting" influence on their children. It took nearly a decade of debate before the commercial area was approved for completion.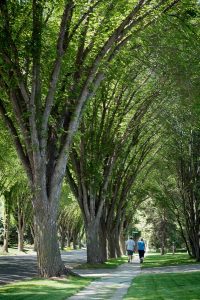 Today
Physically speaking, Forest Lawn has changed little since that first decade of swift development. Our attitudes toward it, however, have grown quite a bit.
Town council's reluctance on deciding how to develop Forest Lawn's empty field turned into somewhat of a benefit. That space, while still mostly a field, is now a major recreation area used by athletic teams from all over the city.
The St. Albert Protestant Schools District Office has gone through a few upgrades over the years, reflecting the changing demographics of the city. It is now known as the Public School District and has expanded from one school in Forest Lawn to three, with twelve more schools spread across the city.
The initial fears about the commercial zone turned out to be unfounded, as a number of successful and community-friendly businesses have made their home there over the years. These include a daycare and a comic shop that have, if anything, had a positive influence on the children of the city.
The elms of Forest Lawn grow a little bit taller every year, but apart from that, the community has settled into place, still holding onto the charm that made it so appealing to newcomers back in its early years. t8n
Fun Fact
The late 60s population boom that lead to Forest Lawn's construction was no small matter. The population of St. Albert more than doubled, moving from 10,243 in 1968 to over 21,000 by 1975.
Caption: Fountain Park Recreational Centre, April 1979. Image Credit: Musée Héritage Museum