An artistic gem
One endearing trait about St. Albert visual artist Carol Watamaniuk is an indomitable spirit that has guided her through her prolifically creative and political life. It's a characteristic that's not only seen her design some of the most unique jewellery around, it's also helped her navigate through four terms as city councilor, an inaugural post as municipal culture director, and tenure as president of the Visual Arts Studio Association.
And as it turns out, not even a stroke that debilitated her earlier this year, shortly after she received a Mayor's Lifetime Achievement in the Arts Award from the city, is likely to stop her. Granted, the affliction has slowed her down by paralyzing her left side, but she's recovered to the point where she can walk with a cane, although she still needs some help. Further physiotherapy hopes to improve her mobility so she can get around unassisted.
"I'm very happy that the blood clot in my brain decided to go in a different direction," said Watamaniuk via phone, shortly after she left hospital late August. "If it had gone the other way, I would have been completely gone." 
Although Watamaniuk said she would never be 100 percent again, she added that the stroke won't prevent her from making jewellery. With one hand, Watamaniuk can still arrange the pieces needed for her ornamental wares, while a technician will put the whole thing together. However, a steep staircase leading to a loft that holds her studio remains a major obstacle towards getting back to her art.
"Designing the jewellery won't be an issue, once I'm there," she added. "It'll eventually happen again once I get the nerve."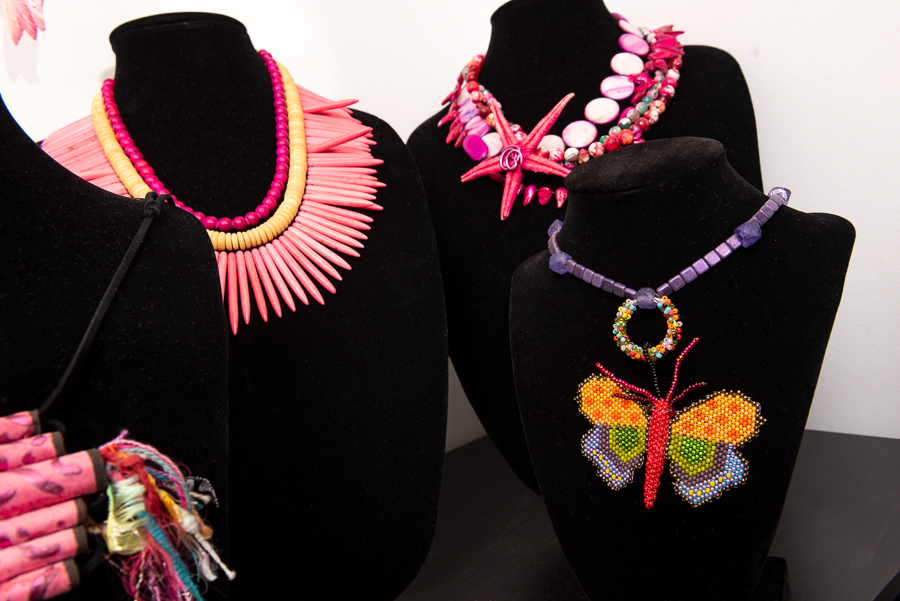 For as long as she can remember, Watamaniuk had a knack for seeing the artistic possibilities in her surroundings, and her work reflects that perception. Some of her jewellery includes some priceless items she got from an antique market in a castle while in England, as well as coins from a bygone era that she came across in Hong Kong.
Other pieces she's collected through her travels around the globe that found their way into her art include sand dollars picked up on a beach in Texas, beads she received from an expert glass craftsman in Rome, painted clay articles in Mexico and beads she discovered in Arizona and across Canada.
While Watamaniuk said she has several ideas for future works, her advocacy for the arts in the city hangs in the balance. She has created several arts programs for schools, the Art Gallery of St. Albert, Arden Theatre, St. Albert Children's Theatre and St. Albert Place and has raised more than $100,000 for the installation of public art.
Watamaniuk, who wants to give up her position at VASA, is especially concerned about the availability of civic funding for artists as well as financial assistance from the provincial government, in light of changes in the UPC ranks and a 2023 election. "I can still speak up for things if I need to," she surmised. "I'm not sure where to start right now."
For now, Watamaniuk's long-term goal is to get back to designing jewellery, although she's already motivated to create more. During one physiotherapy session at the Glenrose Rehabilitation Hospital in Edmonton, while other patients created animal figurines out of clay, Watamaniuk fashioned a more conceptual statement concerning her stroke. "I did this little unexciting sculpture," she said. "It's just kind of an abstract of a brain with two holes in it and one arm is going up and the other is going down. It's certainly nothing earth-shattering, but I'm still inspired." t8n
CAROL WATAMANIUK
AWARDS & DISTINCTIONS
Queen Elizabeth ll Diamond Jubilee Medal
Canadian Craft Council Award
Canadian Federation of
Municipalities Award
Alberta Lieutenant Governor Lois Hole Lifetime Achievement Award
Alberta Centennial Medal
Alberta Heritage Award
Key to the City, City of St Albert
Mayor's Arts Leadership Award, City of St Albert
Community Recognition
Award, City of St Albert 150th Celebration
International Women's Day Arts Achievement Award
City of St Albert Best
City Garden Award
Profiles Visual Arts Society
Art Angel Award
Mayor's Lifetime Achievement in the Arts Award, City of St Albert