For close to three years now, Value Village has been bringing out our city's thrifty side and satisfying even the savviest St. Albert shoppers. And though this retail chain's reputation is grounded in offering a plethora of gently used products at ultra-affordable prices, there's so much more to the Value Village story than saving money. From supporting the Canadian Diabetes Association to doing its part for the environment, St. Albert's Value Village works as hard at doing good as it does at looking good. Never been? Here's a fresh look at a second-hand store.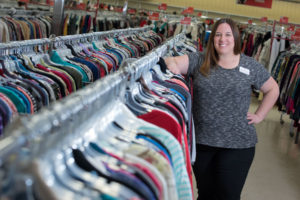 Tiffany Hart, the store manager, has worked for the organization for 15 years and has been based in St. Albert since January. Hart and her team work hard to serve customers and keep the store stocked with donated treasures.
"We have 65 employees here—sales clerks in the front store and production staff who tag and price items in our housewares, bed and bath, furniture and clothing departments."
According to Hart, her location adds between 9,000 and 10,000 newly donated items to the sales floor each day.
"Many of our customers keep coming back because we put out so many new items every single day,"
she explains.
"Come in today, and it will be very different than what you will see tomorrow."
So, where do all these donations come from? Hart says Value Village has become the donation drop-off spot for St. Albert residents. "All kinds of people donate items. They see there's still value in an item and would rather donate it than throw it away." Value Village in St. Albert also has a partnership with the Canadian Diabetes Association. "We pay them per pound for donations," explains Hart. "People can't always afford to give money, but they can help by cleaning out a closet and putting the items in a [Canadian Diabetes Association] donation bin."
With such a high volume of donated items entering the store, it's inevitable that not everything will make it to the sales floor. Recycling is a big part of business at Value Village stores. The St. Albert location alone recycles up to 10,000 pounds of cloth items and up to 5,000 pounds of housewares and books every single day—keeping these items out of the landfill. "Anything that's non-sellable, we recycle," says Hart. "Any kind of cloth—even if it looks like your dog has literally chewed it—we will recycle it. Also shoes, anything that's 50 percent metal or more, bags, purses, pots and pans, housewares—everything."
Hart says that even though many people aren't aware of what goes on behind the scenes at Value Village, it's what she loves most about her job. "I think it's amazing what can be reused, how stuff doesn't have to go to landfills," she says. "I love that we recycle so much. I feel like I am doing my part to make the world a better place for my daughter. I also have a personal connection to our store's charity. My husband has diabetes, so that drives me to want to support [the Canadian Diabetes Association] by helping increase donation dollars for them."
As far as managing a Value Village store in St. Albert goes, Hart has a great impression of our city. "St. Albert really has that small town feel," she says.
"The community support here is strong. We are still working on getting out in the community more. We are always looking for more opportunities to get involved in the things local to St. Albert, and we want more people in St. Albert to know about the behind-the-scenes stuff going on in our store."
By doing so much good on a daily basis, there's no doubt Value Village continually inspires St. Albert residents to reduce their environmental impact and support their community. And scoring that fabulous find feels pretty great, too.  t8n
Value Village at a Glance
Location: 18 Inglewood Drive
St. Albert Store Manager: Tiffany Hart
Specialty: Providing great value for customers, while giving back to the community and the environment.
Interesting fact: Value Village in St. Albert is one of the largest locations in the Edmonton-area.
Hart's Top Tip for Thrift Shopping
The key to a successful shopping trip is to be in the mood. "You need to go through everything to find those treasures. You can't rush. So make sure you have time and feel like shopping."
Did You Know?
According to Value Village's "I Give a Shirt" campaign, which aims to encourage Canadians to reuse clothing instead of throwing it away, it takes more than 700 gallons of water to make one
cotton T-shirt, and 95% of the clothes North Americans throw away in landfills each year could have been reused or recycled.