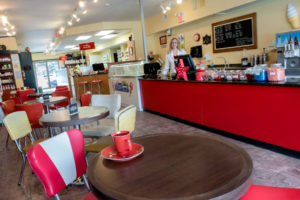 These days, most pharmacists can be found either tucked away behind counters in the back of grocery stores or managing shops that more closely resemble convenience stores than traditional pharmacies. But there was a time, not so long ago, when drugstores were about more than efficiency and convenience. They were a community gathering point. Midtown Apothecary is a throwback to those days when pharmacists knew their customers on a first-name basis—back when you were just as likely to come in for a snack and a chat as you were to fill a prescription. Building that sense of community is a top priority for Apothecary's owner, Karen Moak, and it's a business strategy that's paying off.
Karen has been working as a pharmacist for a long time, and she's seen the best and the worst that the profession has to offer. Before Midtown Apothecary, she and her team were running Target's pharmacy in St. Albert Centre, during the department store's brief attempt at capturing the Canadian market.
"When you're working for a big corporation like that, there isn't much opportunity to interact with your customers,"
recalls Karen. "Some days, you just get stuck working in the back, and you can go through your entire shift without seeing any of your clients." When Target closed its doors, Karen's team received a few employment offers from similar franchised pharmacies, but they decided to take a risk and strike out on their own.
"We really wanted the opportunity to become a part of the community,"
Karen says, "By setting our own rules and prioritizing that customer relationship, we were able to do that."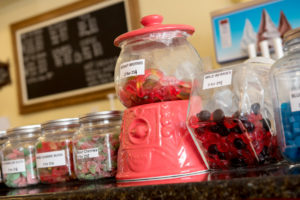 Everything about Midtown Apothecary's design speaks to that classic image of the small-town drugstore. When you walk into Karen's shop, the first thing you'll notice is its vintage look. That and the ice cream parlour! "In the old days, pharmacies often had soda fountains," she explains, "where people could sit up on bar stools and chat with their pharmacist while they enjoyed a drink. Soda fountains have kind of fallen out of style, but we try to do the exact same thing with our ice cream parlour."
Karen's first customers were those who had followed her over from Target, but her client base has been growing steadily ever since Midtown Apothecary opened its doors in 2013. The ice cream has certainly played its part in the business' growth.
"During the summer months, we have people wandering over from the farmers' market, from St. Albert Place and all of the different festivals that go on downtown."
The ice cream counter doesn't shut down when the seasons change though. "Canadians are hardy," laughs Karen, "We still get people coming in throughout the winter to get their fix of ice cream." But while the ice cream counter is a great place to gather and chat, Karen's first priority is always the pharmaceutical needs of her customers.
As a veteran of the pharmaceutical industry, opening Midtown Apothecary has been a dream come true for Karen.
"When we opened Midtown Apothecary, I think I had reached a point in my career where I was ready to settle down and build something that would both make me happy and feel rewarding."
That satisfaction is something that you can see as soon as you walk into the store. Karen and her team won't be hidden away in the stock room, they'll be front and centre, ready to fill your prescription, top off your ice cream cone or just sit down for a chat. A pretty sweet offering, indeed.  t8n
Did You Know?
While Karen's shop evokes a mid-20th century feel, the name "apothecary" is a bit older than that. Apothecaries were the medieval version of the modern pharmacist, mixing herbal concoctions to sooth their customers' ailments.
Fun Fact
As part of its community-building vision, Midtown Apothecary helps to train the next generation of pharmacists by hiring pharmacy students during the summers to give them some job training while they're still in school.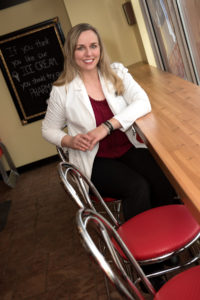 Midtown Apothecary at a Glance 
Location: Suite 100-41 St. Thomas Street
Owner: Karen Moak
Specialties: Pharmaceuticals and ice cream
Interesting facts: In addition to its fully stocked pharmacy, Midtown Apothecary boasts 16 flavours of ice cream, a full candy bar and its own slushee machine.