The dream of quitting your job to travel for six months to a year is a familiar one, but it's also one that seems less likely the older you get. Once you have a career and kids, as conventional thinking goes, it's time to settle down and let go of those lingering romantic notions. However, more families are thinking unconventionally, embracing travel as not only a lifestyle but also as a one-of-a-kind educational opportunity for school-aged children. We spoke to the Thibodeau family in Sturgeon County about their experience of taking a year off to travel, and what that meant for their sons' education.
Hitting the Books on the Road
"The intent was to see Canada," says Chris Thibodeau. "That was the really big thing. You know, people live in Canada and don't get see the whole thing. So, we just took the family and went to see Canada."
From July 2016 to April 2017, Chris and his wife Edith, with their sons Nicholas and Sebastien (now in Grades 9 and 7), set off on an extended road trip, travelling a loop that would take them through every province and quite a few states. To prepare, the Thibodeaus sold their house, bought a 42-foot fifth wheel, and put their jobs on hold.
The ambitious itinerary also meant they had to pull their sons out of school for the year, and take on the responsibility of providing their sons' education themselves. That meant planning a trip in which the kids' schooling would be a major component. The idea of blending travelling and learning isn't new, but it has been gaining some steam lately among families with children. It comes in different varieties, and known by a number of portmanteaus (some clumsier than others): worldschooling, roadschooling, edventuring, and so on. It's essentially homeschooling, but 'home' is wherever the road takes you.
Canada is quite liberal when it comes to the idea of parents as primary educators. Some countries outlaw the practice, notably in Europe, but in Canada it's legal and widely accepted. Each province has its own regulations and practices, but across the country there were close to 30,000 students officially enrolled as homeschoolers in 2014-15, including 10,000 in Alberta—more than any other province. It should also be noted that many homeschoolers aren't even registered; the Ontario Federation of Teaching Parents estimates that Canadian homeschoolers likely number somewhere between 47,500 and 95,000.
It's unclear how many of these students are travelling. But, as with homeschooling, there are several reasons why families choose worldschooling. For some, it's a unique and memorable way to see the world. For others, it's a way of life borne out of necessity.
"In the US, this is a lifestyle," Edith explains. "For lots of people, that's what they do—they follow their husbands from job to job, from rig to rig, or whatever."
Either way, the trade-off for kids is intriguing. They miss out on the benefits of a structured routine and socialization with their peers, but they get more time with their families. And while they probably won't get the same interaction and feedback that would come from a trained educator, travelling kids can gain meaningful, firsthand experiences that resonate in their lessons, giving a depth and dimension to learning that isn't possible in the classroom.
For this reason, school authorities in Canada aren't necessarily against the idea of worldschooling. "This is an educational decision made by parents, but we believe that learning goes far beyond the bricks and mortar of schools," says Paula Power, Communication Services Manager for St. Albert Public Schools. "A lot of learning happens outside of our school walls, and travel is one way in which children can learn about history and other cultures."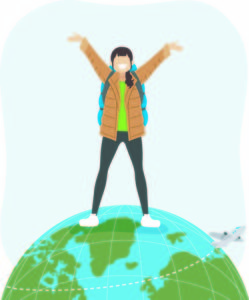 It's Not a Walk in the Park (Except for When It Is)
Certainly the Thibodeaus agreed, feeling that their sons would gain a lot from the experience—enough to justify taking them out of classes for the year. However, the parents had to do a lot of their own homework: researching requirements in Alberta, finding a homeschool board to register with, and conducting Skype interviews with teachers. As Chris explains, they didn't just decide to go for a long drive and let the schooling happen organically.
"We actually had to submit a plan that we were going to homeschool the kids," Edith elaborates. "It's no different than traditional homeschooling. We just happened to be working out of a trailer. You create your own plan, which is what we did."
Fortunately for those on the road, this country is chock-full of educational places, starting with our national parks system. Parks Canada operates its Xplorers program in dozens of parks and sites across the country, and it's geared toward providing educational, physical, historical, and cultural activities for kids ages 6 to 11 and their families. Its existence was a pleasant surprise for the Thibodeaus. Serendipitously, the offerings dovetailed with the Grades 5 and 7 curricula that Sebastien and Nicholas were following.
Activities offered vary from park to park, but common themes include wildlife viewing and learning about local nature, history, or culture. For the Thibodeaus, places like Fortress of Louisbourg on Cape Breton Island, the Citadel Hill in Halifax, and Province House in Charlottetown were great for learning about Canadian history. Gros Morne in Newfoundland was a lesson in geology, while New Brunswick's Fundy National Park had ample opportunity to spot and learn about flora and fauna. Of course, being outdoors meant that the kids were also getting their phys ed fix; at Kouchibouguac National Park in New Brunswick, they took part in geocaching and completed a 10-km night hike.
It wasn't just the national parks, either; plenty of provincial parks, museums, and landmarks are also kid-friendly and informative. Science museums can be particularly cost-effective, thanks to reciprocal agreements that give members of one museum free admission to hundreds of other science centres in Canada and the US. The Thibodeaus' Telus World of Science membership got them into places like the Science Gallery at the Manitoba Museum in Winnipeg, where the kids built and raced electric K'Nex cars, and Science North in Sudbury with its interactive mining and geology exhibition.
But does this replace a traditional school setting? There hasn't been a lot of research yet into the effects of worldschooling on a child's educational development. A 2013 survey asked 400 American adults who had taken educational trips as teenagers what they thought now of their experiences. The respondents were positive: 90 percent reported that it helped their education or careers; 80 percent said it made them more interested in classroom subjects; and 77 percent shared that their experiences made a lasting impact.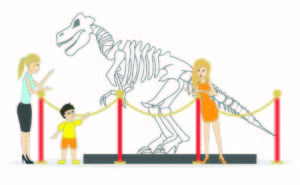 Granted, it could be a mistake to equate fond childhood memories with measurable academic progress. But travel is by nature memorable, and there is something to be said about seeing firsthand what one would otherwise only read about.
"We learned a lot about Social Studies, apparently," Sebastien says, relating an incident after they'd returned to Alberta. "Our teacher asked us a question about where Confederation was signed, and I was the only who knew because I had been there."
Fad or New School of Thought?
The Thibodeaus and many other long-term travelling families are acting act out of a genuine desire to see and learn about the world around them. Still, the idea of worldschooling feels like a very 'now' thing to do. The allure of a nomadic lifestyle that is the antithesis of our structured lives that are moving faster than ever, the relative ease of long-distance travel, the popularity of bucket-listing, and a growing emphasis toward collecting experiences rather than things—these and other factors appear to be turning worldschooling into a fad. It's certainly become more visible online, in the numerous articles and listicles on the topic that have popped up in the last few years, as well as blogs and social media posts by worldschooling families.
But it's worth keeping in mind that there's still plenty of value in brick-and-mortar schools. As eye-opening and interactive as educational travel can be, a typical classroom offers unique interaction with other students and teachers, and the socialization that occurs at school is hard to replicate while travelling. In the Thibodeaus' case, the younger Sebastien missed this aspect of school the most. So much so, that when the family returned to the St. Albert area, he opted to return to school for the final weeks, even though both he and Nicholas had completed their schoolwork for the year.
These kinds of trips also get more difficult as kids get older. The depth of knowledge taught at the high-school level is likely too much for many parents to handle.
"We needed to do it at that time," Chris says. "Now they're both in middle school, and next year will be high school, and you can't really take a year off [then]."
Learning on the Go
How a worldschooling family handles the education component of their trip depends on where they're going and for how long. Some families are always on the move, with their children never brightening the entrance of a school building for years. Others move more slowly and stay longer in certain places, thus choosing to register their children in local schools. Others yet will work with a school district back home, as the Thibodeaus did, knowing that they will return eventually.
Although the family went through a homeschool district, St. Albert Public Schools shows its willingness to meet would-be worldschoolers halfway.
"Many parents who take their children out of school for extended periods are committed to working with us to fill in any gaps," Power says. "We've not found this to be a trend that's unmanageable."
Whatever their methods, their numbers have converged with technology to form worldschool communities, online and off. Websites and Facebook groups devoted to the topic make finding educational resources and opportunities easier, possibly tempting more families to hit the road. In fact, this proved useful for the Thibodeaus when they eventually turned south and headed for Florida, where they would end up staying the winter. Through Facebook, they were able to find local homeschooling groups that planned educational events and tours.
"Because we stayed so long in Florida, they learned different skills that they wouldn't have necessarily picked up," Edith explains. Nicholas got his scuba diving certification, while the younger Sebastien took the introductory course. Being Canucks in Florida, the two soon picked up pickleball, a sport combining tennis and badminton that many snowbirds have brought back from the southern states. They even learned some home renovation skills such as flooring, plumbing, and electrical, after their parents sold the fifth wheel and bought a place in the Fort Pierce area to fix up and reside until their return to Alberta. "That was one of the things we included in the preparation," Chris says. "We talked to the school and told them our plans, and they were like, 'You know what? They're going to learn so much on the road.'" Indeed they did. t8n