Nestled within the Shops of Boudreau is a trendy new retailer. Like its neighbours, the shop is neatly outfitted, the company's white logo planted atop a clean black awning and cool stone contrasting a modern wooden door. But unlike the others, the windows of this retailer are frosted and host a sign prohibiting minors from entering. This is Spiritleaf—one of St. Albert's new recreational cannabis dispensaries.
The store is one of several franchise locations across Alberta and Saskatchewan, owned by entrepreneurs hoping to turn the end of prohibition into a budding business. Married couple Jayne and Jason Kent of Spiritleaf St. Albert are two such hopefuls determined to help locals make the most of cannabis culture in a responsible way.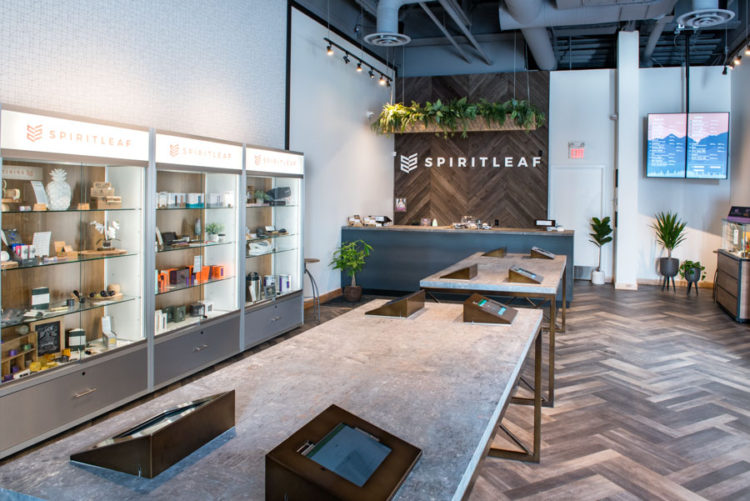 "We wanted to provide a safe and reliable place to buy cannabis products," says Jayne, "and we felt that Spiritleaf's values represented what we would want for the community."
But encouraging consumers to foster a responsible culture around a newly legalized drug wasn't always on the Kents' radar. "Before Spiritleaf I was a police officer," Jayne says, "my husband as well." Much of the pair's previous experience with cannabis had been from a law enforcement perspective, seeing people abuse the substance. However, after learning about some of the benefits cannabis could provide when used responsibly, Jayne realized that everyone has their own reason for consuming.
Those who visit the Kent's shop can expect to find a variety of high-grade accessories like humble+fume crystal pipes in quartz, amethyst, and aventurine, as well as ashtrays, vaporizers, and aluminum grinders arranged behind glass cases. They can scope the day's offerings on two TV screens—each strain marked with a price and symbol indicating whether it's available in capsule, edible oil, or flower form—and legally purchase a government-regulated product they can trust. But perhaps most importantly, they can leave well-informed.
"Legalization presents an opportunity for people to educate themselves about something that they haven't really been able to talk about," says Jayne.
Which is why their team works hard to be knowledgeable about their products, and get as much feedback from customers as possible. They even keep a log book at the front of the store, dubbed The Cannabis Taster, where they encourage shoppers to share their experiences with different strains.
The pair's background has turned out to be an asset, providing credibility to their business and helping to change the stigma around cannabis. It also means the couple is used to following rules—a practice that comes in handy in a strictly-regulated industry. "If it's legislated, that's the way that it goes," says Jayne. "There's no grey area."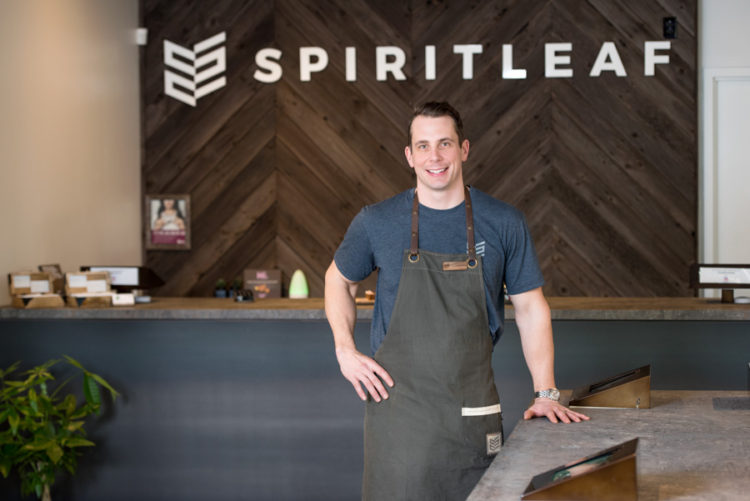 For the owners, the company's slogan "The end of prohibition" is more than just a business opportunity, it's allowed people to talk openly about cannabis, share their stories, and learn what types of products might work best for them.
"We want to make sure people are getting a good product and a good education, so that their first experience—or their hundredth—with cannabis is a good one." t8n
Spiritleaf St. Albert at a Glance
Location 107, 150 Bellerose Drive
Service Recreational cannabis products and accessories
Specialty Knowledgeable staff, candid conversations, and The Cannabis Taster
Fun Fact Alberta and Quebec are the only Canadian provinces where the legal age for cannabis is 18. The legal age for all other provinces and territories is 19.
5 things you should know before shopping for cannabis
Rules vary between provinces. Although legalization is a federal decision, provinces and municipalities set their own rules for consumption. Make sure you're familiar with your local laws before buying or consuming cannabis.
Only certain forms of cannabis are legal. For the time being, retailers like Spiritleaf can sell dried cannabis, seeds, capsules and cannabis oil products. Edibles (like gummies and cookies made with cannabis) as well as concentrates are currently illegal.
Retailers are strictly for recreational use. As a recreational dispensary, one thing you won't find at Spiritleaf St. Albert is medical advice. Customers seeking cannabis for pharmaceutical use are encouraged to visit a designated medical dispensary like The Herb Clinic.
Possession is limited to 30 grams per day. In Alberta, adults over 18 years of age can possess up to 30 grams of legal cannabis in public, and can purchase no more than 30 grams at a time. Cannabis products should always be stored in a secure place, out of reach of children.
You can grow your own. Albertans are legally allowed to grow up to four plants per household. Cannabis plants require special care; protect your investment by doing your research before taking seeds home.