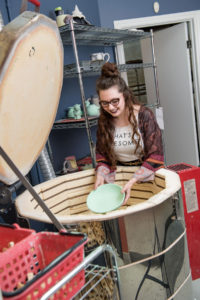 Brenna Cappis is giving new meaning to the term impulse purchase. The fine-arts grad started working at Glazing Pot Studio & Gifts in March of 2018, and when she found out the owner was looking to sell the business later that year, she purchased it. Now, just months after reopening, the 22-year-old is mixing up fresh ideas to create a space that everyone can enjoy.
Specializing in ceramics painting, the studio is stocked with unicorn figurines, trendy geometric bowls, and boxes shaped like video game controllers just waiting for a few coats of paint. It's also home to buckets of specialty glass shards for making one-of-a-kind creations in a process called glass fusing—glass blowing's simpler and much safer cousin. Both crafts are surprisingly user-friendly, making Glazing Pot Studio & Gifts an inviting place for anyone with a little artistic curiosity to try something new.
The studio offers a lineup of services for parents and kids including school field trips, Baby Club and after-hours bookings for family gatherings or birthday parties—and at almost any given moment you can find a mother patiently gluing down an excited child's glass masterpiece. But Cappis is hopeful that the few additions she's made since taking over will broaden the studio's appeal even further.
"I wanted to give it a coffee shop aesthetic," she says, "where you could come on a rainy day, listen to some nice music, and focus on yourself." Swapping out the previously bright palette for toasty orange and grey-blue, the studio is equal parts trendy and tranquil, a vibe she hopes will resonate with teens and young adults.
"There's not always a lot for teens to do in the city," Cappis says, "so I'd like to establish a place where they can come, do something productive, and hang out with their friends." She's optimistic that new initiatives like canvas painting events and Game of Thrones-themed workshops—where participants deck out ceramic steins with their favourite house's colours—will help. "I'm really big into pop culture," Cappis says, "so I try to pick things that are pop-culture related and fun."
While a trip to the studio is likely to set you back about as much as a night at the movies, part of the appeal of crafts is going home with a finished product that you can give to a parent, a friend, or keep as a memento of an afternoon well spent.
With no shortage of ideas in sight, the new owner admits the biggest learning curve has been on the business side of things. "knowing when to order stock and learning how to do payroll has been a bit of a challenge." But with plans to enroll in business courses in the coming year, and determination to see the studio thrive, she's leading the charge for a cozy space where people of all ages and abilities can get fired up about ceramics. T8n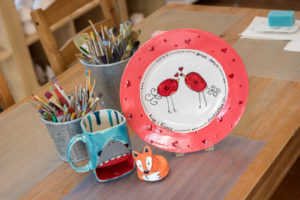 Glass Fusing
Glass fusing is a process whereby shards of specialty glass are arranged, glued together, and fired in a kiln to create one-of-a-kind items.
Jewellery, ornaments, coasters, night lights, and spoon rests are just a few of the fused-glass items you can create at Glazing Pot Studio & Gifts.
Glass is fused in a kiln at temperatures up to 816°C where it transforms into an almost fluid state.
Glass shards can be easily cut into different shapes and sizes, depending on the desired pattern.
Glass should be handled with care, and participants are required to use tweezers when working on their glass projects.
Fused glass can be shaped around moulds to create decorative bowls and plates using an additional process called slumping.
Glass fusing is fun for all ages. Cappis even teaches the art to kindergarten classes.
What's On in the Studio
In addition to regular drop-ins, the studio offers seasonal programs and workshops for kids and adults.
Baby Club
Decorate a themed plate-of-the-month featuring your child's hand or footprint.
Who: Parents with kids under age 4
When: First and third Tuesday of every month
Cost: $20 – $40
Movie Night
Drop the kids off for an hour of ceramics painting, followed by a movie with popcorn!
Who: Kids ages 4 and up
When: First and third Friday of
every month
Cost: $55 per child
Seasonal Workshops
Visit www.glazingpotstudio.ca or call the studio at (780) 459-5958 for the full lineup.
Glazing Pot Studio & Gifts at a Glance
Location #108, 31 Fairview Boulevard
Service Ceramics painting and glass fusing with soothing music and a friendly atmosphere
Specialty Ceramics painting programs for kids, youth, and adults
Fun Fact The studio offers Jungle Gems™—special paints with crystals inside that burst into colour once in the kiln