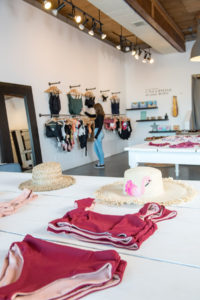 Neatly laid out on the shelves and tables of 3 Girls Swim & Wear Boutique are a selection of sunglasses you'd expect to find in a Kardashian's closet, boxes of popsicle pool floats, and a tidy selection of bikinis made in LA and Bali. The contents of the shop look like they've been pulled directly out of your favourite Instagram accounts, which is kind of the point.
Sisters Erin, Amie, and Abbey Kirchner opened 3 Girls Swim & Wear Boutique as a result of being consistently frustrated with the lack of trendy swimwear available in stores. With the encouragement of their mother, the trio took to Instagram to source some of the swimsuits they saw featured on fashion blogs and worn by celebrities, and in 2016 their St. Albert boutique was born.
At ages 24, 23, and 18 respectively, the girls have made their endeavour a success through youthful confidence and a firm finger—or three—on the pulse of millennial fashion. Abbey, the youngest of the bunch, is currently in California taking Fashion Marketing, and Amie jokes that her favourite hobby is creeping Instagram bloggers.
"Most of the brands you see on Instagram aren't available in Canada," says Erin, a political sciences student, and the oldest of the three.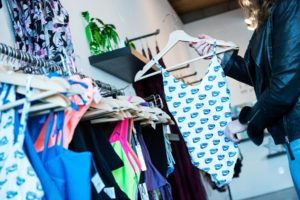 That's where the girls have found their niche. As the only store in North America to sell brands like Loving Tan—which has an impressive 660,000 followers on Instagram—3 Girls Swim & Wear Boutique has developed a reputation for carrying swimwear and accessories that aren't usually found this side of the border. They've even expanded their stock to include a few choice items for men.
But that's not all they're known for. Buying a swimsuit can be a trying and emotional task, and the girls have built their brand around making the shop a supportive and inclusive place. Erin says her favourite moments are when customers—who've struggled to find even one suit they feel comfortable wearing—come in and now have to choose from all of the options they love.
"Being trendy is sometimes really exclusive," she says, and the girls are taking the opportunity to make trends accessible for all body types, personalities, and styles.
They've taken this idea so far as to launch their own swimwear line, 3 Girls: The Label. "It's stuff we were still waiting to find," says Erin. They filled this gap by designing two tops and two bottoms, each updating a trendy style with a unique function they hadn't seen in any other brand. The bandeau-style Amie top has straps to keep it from falling down; and the Ashlee top, a fully-adjustable triangle top with full side coverage, is designed to fit nearly any body type. It seems they weren't the only ones waiting, because even after a reorder only a handful of items from the girls' collection still hang on the walls.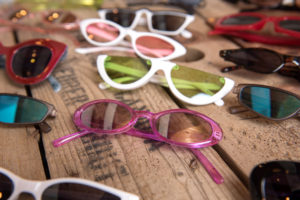 The sisters didn't plan on being entrepreneurs, but they're surprised at how much they're enjoying it. And for pool and beach-loving St. Albertans, their venture is a refreshing one. The young trendsetters at 3 Girls Swim & Wear Boutique have stitched together the best styles social media has to offer, with the inclusivity that it can sometimes lack, and tied it together with youthful ambition.
"I came from retail, so I knew what I was getting into," laughs Amie. "But being one of the owners is way better." t8n
Swimwear Care 101
Stay away from rough surfaces. Swimsuits are usually made from nylon, which can snag or pill if caught on something rough (like sand or a concrete bench). Put some distance between your suit and rugged surfaces with a cushy beach towel.
Rinse in cold water. After a day of swimming in chlorine or salt, your suit could use some rehydration in pure water. A quick cold rinse after each wear will help preserve the material, and protect your skin from irritation, too.
Blow it dry. Keep swimwear out of the dryer, which can break down the elasticity, and out of the sun, which can fade the colours. Instead, hang to dry or blow-dry it on the cool setting to help speed up drying time.
Tips for choosing the perfect suit
Finding a suit that looks and feels right can be a long process. Set yourself up for success with five tips from three girls who know what they're talking about.
Be excited. The best time to shop for a swimsuit is the day after booking a vacation. "Someone who comes in just after they've bought their trip, and has time to spare, is 10 times more likely to find something than someone who's leaving the next day and is stressed out," says Erin.
Look around—twice. Do an initial sweep of the store, and try on anything that jumps out. After that, you'll have a better idea of what styles look best on you.
Ignore the size. "If you like it, take it," Amie says. Every brand fits differently, and every style will too. Focus on how it fits and how you feel, rather than the letter on the tag.
Try on something outrageous. Unique styles can have the most flattering fits. Try on something you wouldn't normally have considered, and you might be surprised.
Tell us what you don't like. "We know everything in the store," says Amie. Telling a staff member what you like—and don't like—will help them find you better options.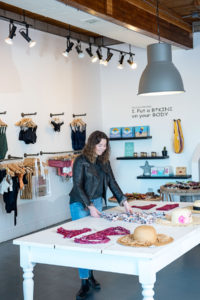 3 Girls Swim & Wear Boutique at a Glance
Location 28A St. Anne Street
Service Hard-to-find swimwear styles sourced from star social media brands
Specialty Their own private label of innovative designs
Fun Fact The boutique is known colloquially as "The Suits of Instagram."