The Red Willow Trail—it just may be the most accessible health and fitness amenity in St. Albert. It is user friendly, bike friendly, dog friendly and wallet friendly. Open 365 days a year, 24/7, this tranquil destination has the unique capacity to calm your mind, brighten your day and tighten your muscles—all with no waiting, joining fees or spandex requirements. Here's a look back at its history and beginnings along the Sturgeon River.
1800s: Pioneer Lifeblood
Bodies of water have always defined who and what we are. The Sturgeon River is no exception. Stemming from the North Saskatchewan, the Sturgeon provided a foundation for early pioneer life. Settled by missionaries in the 1800s, it became a central artery for farmers whose narrow parcels of land radiated from the meandering river like spokes of a wheel. Paths along its banks linked families to each other and to the social heart of the community where they came together to trade and congregate at market or worship at mass.
1960s to 1980s: From Village to City
St. Albert formally became a town in 1962, but its most significant growth took place 10 years later during a development boom. During that time, the Sturgeon River became a key planning element that helped dictate how the city would be developed and divided into quadrants (northeast, northwest, southeast, southwest) that would become the city's new residential neighbourhoods.
During the 70s, millions of provincial dollars earmarked for urban park development were not accessible to St. Albert, as it was on the verge of annexation from Edmonton. In 1984, however, after much hard work, the City received a grant from the Devonian Foundation to build a trail system along the Sturgeon River that would lead from St. Albert Place to the Trestle Railway Bridge.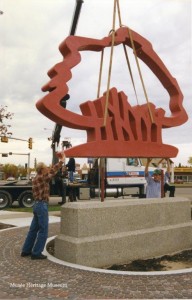 1990s & 2000s: The Birth of Urban Parks
According to Statistics Canada, Canadians in the 1990s were moving away from organized sports and toward more informal pursuits. Between 1992 and 2005, sports participation remained constant while walking and jogging grew.
In the early 90s, community feedback in St. Albert was right on trend: St. Albert city planners were overwhelmed by a 70% survey response from residents who identified trails and outdoor amenities as priorities. That desire for outdoor pursuits, coupled with an emerging conservation movement, gave birth to the vision that would become the Red Willow Trail System.
In 1990, the estimated cost for the whole project was $30 million and included trails, boardwalks, a golf course, picnic areas and a variety of parks. Excited planners committed that every house in the city would be within 400 metres of a trail artery—as close as your nearest bus stop.
As promised, 85 kilometres of recreation trails were built, fulfilling the goal of connecting parks, neighbourhoods and amen-ities. Some of the parks it connects include the St. Albert Place Promenade, Riverlot 56, Big Lake, Kingswood Park, Lacombe Lake Park, Lion's Park and Red Willow Park.
In 2011 after 15 years of sitting blank, the obelisk located near Sturgeon Road and St. Albert Trail was finally inscribed. Mayor Nolan Crouse recognized the dedication of 42 groups and individuals who contributed to the development of the Red Willow Trail System. Absent from the monument, by Crouse's request, were the names of any politicians.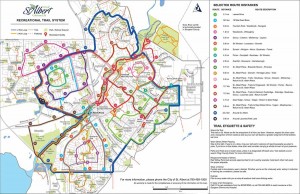 Now
Today outdoor leisure pursuits are the norm. Mountain bikes occupy most garages and hiking shoes most closets. As in the past, life is still happening along the river. And though the Sturgeon has transitioned from being a cradle of commerce and means of travel for our ancestors to a place of modern community activity and recreation, we still gravitate to this place of peace and solitude. t8n
Did You Know?
Travel the trail west and experience Lois Hole Centennial Provincial Park, established in 2005 as the 69th provincial park in Alberta. You'll discover amazing wetlands, an interpretive site, boardwalks, viewing platforms, shorebirds and waterfowl—more than 235 bird species have been recorded there.
Trail Etiquette
Part of making the trail enjoyable for everyone is learning how to share it responsibly. Here are some tips to help you along:
Keep right, except when passing or turning left.
Move off the trail to the right when stopping or yielding to less mobile users.
Leash your dog when on a trail (this includes trails in off-leash areas).
Use your bike bell to signal your approach to others.