This rich and delicious smoothie is just the ticket to get you out the door first thing in the morning.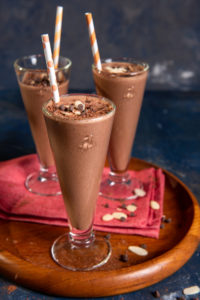 2 frozen bananas
3 tbsp. any nut or seed butter
1 tbsp. honey
2 c. oat beverage
1 tbsp. cocoa
Add all ingredients into a blender and blend until smooth.
This recipe makes four servings. Top it with toasted oats, a few mini-chocolate chips or sliced banana.