Overnight oats are a great summer substitute for your wintery, warm oatmeal. It packs the same nutritious punch and can be made ahead to eat throughout the week.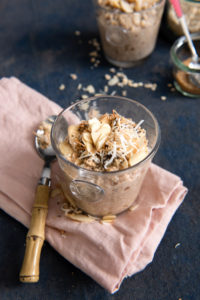 1 c. quick oats
1 ¼ c. oat beverage
2 tsp. coconut sugar
1 tsp. chai spice
½ c. sliced almonds (any type of nut will work)
¼ c. coconut
Toppings
fresh berries
chopped apple
toasted coconut
turbinado sugar
toasted almonds
In a large bowl, combine the oats, oat beverage, coconut sugar, chai spice, sliced almonds and coconut. Stir until all the ingredients are evenly distributed. This mixture can be left in the bowl overnight or it can be divided into individual servings using small mason jars or glasses.
In the morning, remove overnight oats from the fridge and add your favourite fruit and crunchy toppings!