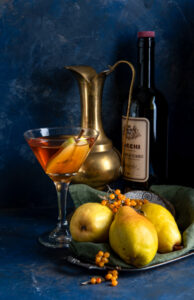 Forget about pantry cooking, what about pantry drink prep? Pull out that can of pears and use the liquid to make a warm, fruity martini.
3 oz. Prickly Pear vodka from Eau Claire Distillery
½ oz. sweet vermouth
1 ½ canned pear liquid
Fill a cocktail shaker with ice and add in the vodka, vermouth and canned pear liquid. Shake and pour into a martini glass. Garnish with a slice of pear.
Non-alcoholic switch-up
3 oz. Grove 42 Seedlip
2 oz. canned pear liquid
1 ½ oz. tonic water
Repeat above, swapping out the vodka and vermouth for Seedlip. Enjoy!