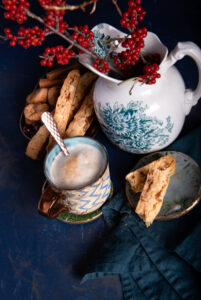 Figs and honey are common appetizer ingredients, often served on top of or alongside a variety of cheeses. This biscotti is a twist on that classic pairing lending itself beautifully to cocktail hour especially if the cocktail of choice is a spiked chai latte!
½ c. room temperature butter 
2 ¼ c. all purpose flour
½ tsp. baking powder
½ tsp. kosher salt
2 large eggs
½ c. toasted, chopped hazelnuts
½ c. chopped dried Turkish figs
½ tsp. vanilla bean paste (vanilla extract is a great substitution)
¾ c. sugar
3 tbsp. honey
Preheat the oven to 325ºF. Line a baking sheet with parchment paper or a silicone baking mat. Set aside.
Using a stand mixer with the paddle attachment or hand-held beaters, cream together the sugar, honey and butter. Add in the eggs and vanilla bean paste. Blend to combine. 
With the stand mixer off, add in the flour, salt and baking powder. On low, combine the dry ingredients into the wet ingredients. Using a spoon, stir in the figs and the hazelnuts.
Shape the dough into a ball and place onto prepared baking sheet. At this point, the dough can be split into two balls if smaller biscotti are desired. Shape the ball into a log, aiming for 
a consistent thickness.
Bake the log for 30-35 minutes. Let cool for 10 minutes on the baking sheet. 
Using a serrated knife, on a large cutting board, slice the biscotti log into one-inch slices. Arrange the slices with the cut side up on the baking sheet.Bake the slices for about 20 minutes per side. The slices should be golden brown.
Let cool and store in an airtight container or pop into the freezer for future consumption.