Cookie bars are a great way to make cookies in one pan!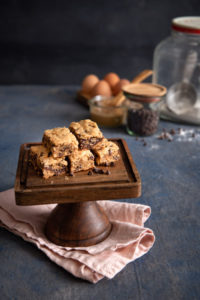 1 ¾ gluten free flour
1 c. best brown sugar
¾ c. salted caramel peanut butter
½ c. room temperature butter
2 eggs
1 ½ tsp. vanilla extract
¾ tsp. baking soda
¼ c. chopped roasted peanuts (salted or unsalted)
¼ c. cacao nibs
150 g or half of a bag of mini chocolate chips
Preheat oven to 375º. Line a nine-by-13-inch baking dish with parchment, leaving an overhang so the bars are easy to remove. On the two sides not covered with parchment, lightly coat with cooking spray.
In a large bowl, cream together the brown sugar and the butter. Add in the peanut butter, egg and vanilla. On top of the wet mixture, add the flour and the baking soda. Slowly mix in until just combined. With a spoon, stir in the peanuts, cacao nibs and the chocolate chips.
Scoop the batter into the prepared pan. With wet fingertips, press the batter into the pan filling all four corners and smooth out the top.
Bake for 20-22 minutes, until lightly browned and a toothpick comes out clean!
Cool for 30 minutes in the pan and then lift the cookie bars onto a cooling rack and cool completely before slicing.
Tip: Amp up that peanut butter flavour by using salted caramel peanut butter and give these cookie bars some crunch with both roasted peanuts and cacao nibs.