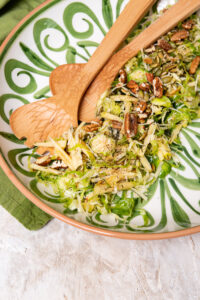 Apples, shaved Brussels sprouts, toasted pecans and pecorino, combine to make a crunchy, colourful salad. This salad is great on its own for lunch, or add a protein of your choosing for a main meal. 
Dressing
3 tbsp. apple cider vinegar

2 tbsp. olive oil

2 tsp. honey

¼ c. fresh dill, chopped

½ tsp. kosher salt

½ tsp. black pepper

a pinch of yellow mustard seed
Whisk together and set aside.
Salad
16 Brussels sprouts, outer leaves removed and cut thin

2 red-skinned apples (Ambrosia is a nice crunchy apple, but any apple will work!)

4 tbsp. toasted and chopped pecans

2 tbsp. toasted pepitas

½ c. grated pecorino cheese
To toast the nuts and seeds, preheat oven to 350°F and line a baking sheet with two separate pieces of parchment paper: one piece of parchment for the pecans and one piece for the pepitas. 
The pepitas take six to eight minutes, so pull those out first and then finish toasting the pecans because they take eight to 10 minutes. Once out of the oven, set aside to cool.
In a large bowl, combine all the above ingredients, toss to coat the salad with the dressing and dive in!